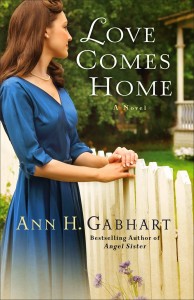 I'm giving away some books. Well, actually this book. To ten people. I had a lapse of memory and bought an extra box of Love Comes Home when I already had a box of the books. It's a Rosey Corner book but it stands just fine on its own if you haven't read the other Rosey Corner books, Angel Sister and Small Town Girl. I love my Rosey Corner people, and this book actually won a Selah Book of the Year award. I'm still pretty amazed about that.
So since I've revving up for my new book, These Healing Hills, that will be out for readers in a few weeks and can be pre-ordered now if you want to be sure to get it hot off the press, I think it's a great time to give away some things. First, ten copies of Love Comes Home. Well, not all ten to one person, but if you want to be one of the ten, just say so. If I have more than ten, I'll draw for the winners next Tuesday and then contact you via e-mail to get your addresses.
I'm taking a chance here. I might not have ten takers, but if I don't, I'll throw it out there on Facebook. I know some of you have already read the book, but you might know someone who hasn't. Or you could donate it to your local library or your church library. Or you might like having an autographed copy to keep.
I did order a celebration prize today for These Healing Hills. I'll be sending out a newsletter very soon. Maybe this week. I'm not sharing what the prizes are here just yet. Those who get my newsletter always get the first peek at the prizes. If you're not signed up to get my newsletter, all you have to do is fill in the info on the form in the border of my website pages. I only send out about six newsletters a year, so you won't be overwhelmed with "News for Ann." Then I'll have to have another game of some sort here on One Writer's Journal to give away even more books in September. Hmm. More mystery photos? Or perhaps a "write the caption for a picture" game? I'll have to think about that.
So far I've only received the one copy of my new book, These Healing Hills, so it has just been read by one person here at home so far. My sweet husband laid down a half-read Robert Ludlum thriller novel to read mine. He said he liked the story, but then he had to say that. He didn't want me to break his plate. LOL.
A few reviews have come in already for These Healing Hills. This one from Publishers' Weekly.
Gabhart (The Outsider) paints an endearing portrait of WWII Appalachia in this enjoyable tale about two people trying to find their place in the world and discern what it means to truly be home. After Francine Howard's boyfriend dumps her for an English war bride, she heads to Hyden, Ky., as a member of the Frontier Nursing Service to be trained as a midwife. The local customs are different from any she has ever known, and she soon discovers she may be in over her head. Meanwhile, Ben Locke has been serving his country as a medic in Europe and wants nothing more than to go back home to the mountains he loves. When an unexpected injury allows him to do just that, one of the first people he encounters is Fran. The two are attracted to each other, but he is from the rural parts of the mountain. In her community, she knows things would be contentious if the two became close. Gabhart handles the Appalachian landscape and culture with skill, bringing them to vibrant life. (Sept.)
Then my publishers sent me a link to a couple more reviews. Very favorable ones. That's always a whew moment for an author. Less favorable reviews may come, but it's good to have the first ones you see make you smile. I liked this remark from Laura, one of the reviewers. "In These Healing Hills, she [uh, that's me]created pictures so vivid I felt like I was watching a movie.." And Olivia was just as nice saying, "This took me several days to read only because I wanted to savor every scene." Here's the link should you want to read the rest of their kind remarks about the story.
As always, thanks for reading. And let me know if you want to be in the running to get that copy of Love Comes Home.