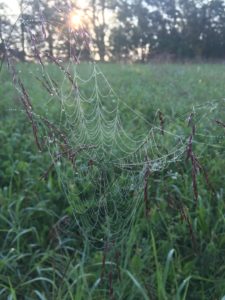 Poetry is a fresh morning spiderweb telling a story of moonlight hours of weaving and waiting during a night. (Carl Sandburg)
Can you see the spiderweb attached to the purple seed heads of the grass here? I went out one morning last week and there were dozens, perhaps even hundreds of webs scattered throughout the grass in the hayfield. That proved there are dozens, maybe hundreds of spiders living there.
I like spiderwebs. Don't like running into them, but I like seeing them. And that's what I wouldn't have done if not for the very dewy morning. The dew painted all the fragile webs and made them appear out of thin air. Or so it seemed to me, anyway. I have walked that hayfield path way too many times to count. I never think about all the spiders hiding out in the grass. Ready to spin their night webs and hope to catch some unwary bug.
That's okay. It's the rare bug around here that's anywhere close to endangered. Except maybe in danger of a spider catching it and me stepping on it or Oscar catching it. Oscar doesn't do that often, but we used to have a Brittany Spaniel that practically lived on grasshoppers in the summer time. She could stare at a mole trail still as a cat stalking a bird and then dive down in the dirt and come up with a mole too. And since she passed on over the rainbow bridge, we realize she must have kept the raccoons and possums out of our garden. We need another Sammie dog.
I've written a couple of blogs about how I think about story as a spiderweb with all the various story threads spun into an intricate pattern that ends up a novel.  You can read the most recent one, Story Webs here if you're interested. A lot clearer picture of a web there.
Fiction is like a spider's web, attached ever so slightly perhaps, but still attached to life at all four corners. Often the attachment is scarcely perceptible. (Virginia Woolf)
But seeing the many webs the other morning made me think about how much of our natural world we don't see. Even if I looked closer, searched through the grasses, I doubt I'd see those sneaky little spiders. I might find one or two, but not the hundreds that will be weaving by moonlight. Spiders surely aren't the only thing we overlook in our daily walk through life. Nature's wonders are spilled out all around us.
Last night on my way from from the Christian Fiction Readers Retreat in Cincinnati, the sunset was spectacular, but it may have been just as spectacular tonight and I didn't go look at it. In a week, there is going to be an eclipse of the sun that will be easy to see here in Kentucky. I'll watch, but how often do I go out and stare up at the wonder of the stars or note the rising of the moon? Marvels of nature that can be mine for very little effort. The sparkle of creek water in the sun. Mushrooms growing on a tree.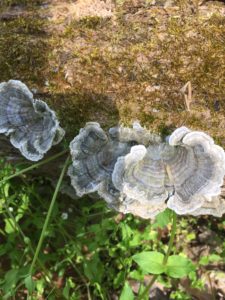 The pattern of ice on a creek in the winter. An insect seen up close. Pawpaws ripening on a tree. A bird taking a bath in a mud puddle. Lightning bugs sprinkled through the dusky air of evening. Common things we take for granted can be those marvels that light up our spirits the way stars light up the night sky.
So take a look around you this week and see what hidden marvels of nature you find. I'll keep my eye out too and we can trade stories here on my blog past.
Stay tuned this week. I'm going to give away some books next post and a newsletter all about my new book will be going out soon with a new giveaway as soon as I figure out what I'm giving away!
Thanks for reading and if you have a minute, I'd love to hear about some hidden marvels of nature you notice this week.
Save
Save