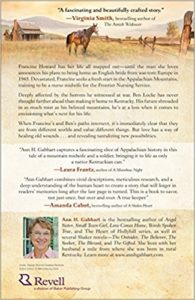 I'm sure you've heard people talk about that new car smell. And when I was a kid, I remember sniffing my new shoes for that nice new leathery smell. Why not a new book smell?
My dad used to accuse me of having my nose stuck in a book all the time, so I should know how a book smells since I've read so many. Of course it could be that I'm enjoying that new book smell because I just got my new book, These Healing Hills hot off the press yesterday. The book doesn't release until September although it is available for pre-order wherever books are sold on-line. Check out more information here. Whether the book is available in August or September, I got to hold the first copy in my hands yesterday and take a big breath of that new book smell.
You might wonder what a new book smells like. Nice warm paper mostly with a hint of printers' ink. The ink may just be my imagination, but that paper smell is rife with promise as words spill across the nearly white pages inviting readers into my story. The pages ruffle nicely with no turned down corners or crumpled edges. Your fingers almost tingle with the thought of turning all those pages. On the outside of the book, the cover seems to lack any kind of scent, but the colorful pictures and the great words telling about the story make up for that.
I had seen the front cover some time ago, but I hadn't seen the back cover until I got the book yesterday. I was very pleased to see the horse, saddled and waiting for my nurse midwife to finish treating her patient and be ready to ride on to the next cabin. Horses were the only way of getting places in the mountains when the Frontier Nursing Service began in 1925. Later, after the war, the nurses began using a few jeeps, but in some areas, the horse was still the means of travel. Then again, sometime a nurse midwife went afoot. However they went, they were ready to do whatever was needed to help babies come into the world and be healthy.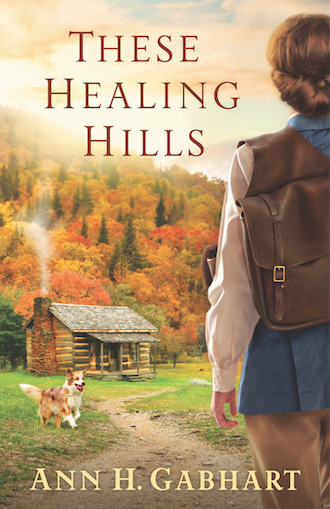 Francine, my character, finds her way to her patients' cabins by horseback. The nurse midwives were very careful to take care of their horses since the horses were such a vital part of their service. Young women called couriers would volunteer to come to the mountains and do whatever was needed to help the nurse midwives. Often that meant working with the horses, brushing them and medicating them and cleaning their hooves. Since Francine is at one of the outpost clinics she doesn't have a courier to help her and has to care for her horse, Jasmine, herself. So she has Sarge the dog on the front cover and Jasmine the horse on the back cover. What more could any character want?
Thanks for reading. I'll be sending out a newsletter soon with a new giveaway to celebrate the release of These Healing Hills. Guess I better think of something neat to give away. Lots of other fun things going on too with book signings coming up and interviews with other bloggers. Plus, a chance to win a copy of the book is happening on Goodreads. Just hop over there to enter before September 5th. Five winners will be picked. For other events check out my News & Events Page.
Thanks for reading. What do you like best about my new cover? Have you ever noticed that new book smell?