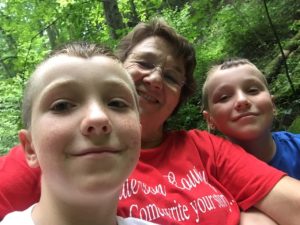 Earth and sky, woods and fields, lakes and rivers, the mountain and the sea, are excellent schoolmasters, and teach some of us more than we can ever learn from books. ~John Lubbock
Two of the grandkids came to spend some time with us last week. The boys are twins and at eight, almost nine, full of energy and curiosity. They say curiosity killed the cat, but for sure curiosity keeps a boy on the move. I've been hesitant to take the boys to the cliff and creek area on my farm just because when you say cliff and rocks, you're talking about a place where a kid can get hurt if they don't listen.
I've taken many kids over there on hikes, but I always tell them before I go that while we are hiking over there I am the supreme boss. If I say stop, they stop. Right now. Without question. That's hard for some kids these days. Don't think it was hard for me. My parents told me to do something, I did it.
I have to admit to spoiling my grandkids way more than I was ever spoiled but when we go over to the Rock, they have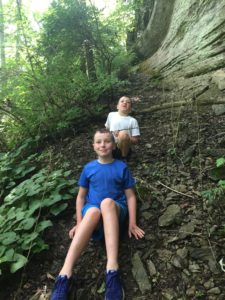 to listen. And they did. We took this selfie down at the bottom of the cliff before we went on down to wade a bit. They even cooperated with that and smiled. 🙂
They were a little hesitant on the cliff path because we stressed to them the necessity to be extra careful since it had been raining and the path was a little slippery. Well, the path is always a little slippery. So they just scooted down the steeper parts. Their dad used to love to go over to the Rock. He was like a mountain goat and never had trouble scrambling up and down the cliff, but he had more practice at it than the boys since this was their first trip over. 
They really liked the cave at the bottom of the cliff, but we didn't go very far into it. Actually you can't walk very far into it before it narrows to a hole in the ground. This grandma isn't going down in caves, for sure. I'm no caver. But then we climbed over the rocks and out to the creek.
I do like walking down creeks and so do most kids. The boys liked splashing rocks in the creek and destroying spider webs. I couldn't talk them into appreciating the beauty of the spiders or their webs. What is it about running into spiderwebs that bothers us so much? I don't get excited about it anymore. I just brush off the webs and hope the spiders jump off too, but when I was a kid I was terrified a spider was going to get on me if I hi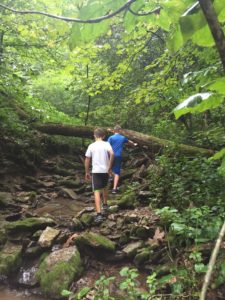 t a web. The boys felt pretty much the same. So very few spiderwebs survived in our path. And they knew the Charlotte's Web story too. Didn't convince them the spiders were harmless.
But it was fun letting them experience a place where I love to hike and where their dad loved to hike and where my dad, who passed on long before they were born, loved to hike too. A continuation of love of a place where nature rules.
I guess to keep the nature theme of the visit going we took the boys to the Arboretum in Lexington the next day where we met their mother for them to go home. They had fun at the Children's Garden, once again wading in a creek albeit a much more foot friendly creek. I took these pictures of them there. We had already made a visit to the Dollar Tree where one of them saw the Groucho Marx glasses and wanted them at once. He turned to Groucho for nearly every picture after that. The other one wanted to prove he could stick his head out of that section of a dead tree they have at the Arboretum for kids to play on. I didn't know how I was going to explain to his mother if his head got stuck. But he managed to free himself before I had to call the fire department. LOL.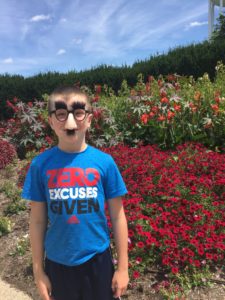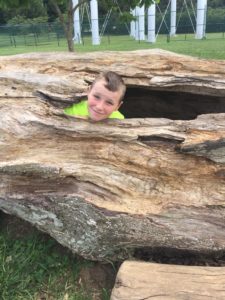 I enjoy seeing the world through my grandkids' eyes. Something I might not have done as well with my own children. But they had loving grandparents who shared special days with them when they were kids.
What's something special you've done with your grandkids or your kids?
As always, thanks for reading.
Save
Save