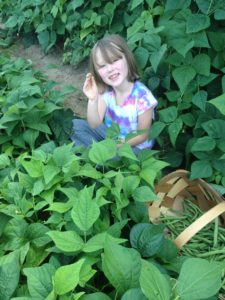 Have you heard the story about the little boy who went visiting for dinner? When he got home his mother asked him what he had to eat? He said they had a thousand things for dinner and every one of them a bean.
I like beans. I've always liked soup beans even when I was a picky eater as a kid. I wasn't as crazy about green beans but I like them okay now. One thing sure I've picked my share of beans over the years. We always had a garden when I was growing up and now that I'm way past grown up, we still have a garden. That is just part of being country – raising your own vegetables and berries. I used to can hundreds of jars of beans, tomatoes, apples, jams, pickles and relishes. But now I don't need as much since I'm not feeding growing kids any more. I do still can green beans and occasionally make jam, pickles and relishes. My apple trees bit the dust so no more apple canning. I freeze any tomatoes I have. They're great in soups and such.
These days we share the garden with my son and his family. They have more mouths to feed with a houseful of kids. Some of them even like green beans. Well, eating them. Picking them, not so much. My dad used to tell a story about once when his grandfather invited him over to his house for a frolic. Dad was ready for that. But when he got over to his grandpa's house, the "frolic" was planting bean seeds.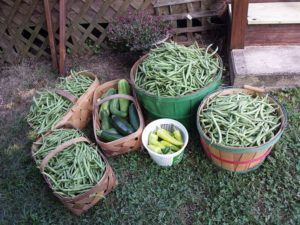 Well, that was the kind of frolic we had yesterday. A bean picking frolic. My daughter-in-law's bunch beans were loaded down with beans. My son who usually does a lot of the bean picking was sick with a fever. So they left him home and my daughter-in-law and my granddaughters came out to pick the beans. It wasn't steaming hot, but it was plenty hot in the garden picking those beans. The two youngest granddaughters played a little at picking beans, but thank goodness their older sister is a worker. My daughter-in-law has back and hip troubles and could only pick for a while. But we frolicked along and picked a pile of beans. So many that my daughter-in-law was beginning to regret planting that extra half row. We were regretting it a little while we were picking too. She may be regretting it even more today with having to snap all those beans and can them. But she'll have some good eating for the rest of the year when she gets them done.
We always raise stick beans, so they aren't quite ready to pick yet. We planted them sort of late, but they do have little beans coming. So then my husband and I will have some together time while we string and break up the beans. I remember sitting on the porch with my mother and aunt breaking up beans when I was a kid. We shelled peas and lima beans there too. I wish I could go back in time and be there to hear the stories they told while we were working.
Then my mom helped me after I got married and started canning beans for my family. For the first few years after I married, I had to can my beans at her house since she worried about me not doing the canner right and letting it blow up or something. Well, it was her canner and I did have little kids that might have distracted me. But that was okay with me. I liked having her help as we worked on the beans.
So many good memories made in the garden and kitchen. Maybe someday my granddaughters will remember the bean picking frolics with more affection than they do now. Maybe someday.
Do you have any bean picking frolic memories?
Save