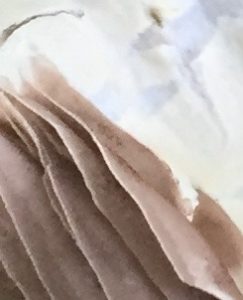 "There is no psychiatrist in the world like a puppy licking your face." (Bernard Williams)
When one mystery ends, sometimes a new one begins. And so, we have mystery photo four. Thank you all for playing and guessing on Sunday's picture. You are definitely exercising those imaginations.
Some very interesting guesses this time. A few unusual ones too like Marji's hair on a blue dog. I think she was pulling my leg on that one, but I did have a dog named Blue once. You can see a picture of him on my Facebook page – the dog with my baby son and me in front of the white gate that I posted to celebrate that son's birthday last week. Then Kathleen's husband's fish eye guess took some imagination for me. I've never looked too many fish in the eye so I'm not the one to say if that was a good guess or not. Kathleen must not have agreed as she went a whole different direction guessing some plant fiber. She did get the blue jean fabric right, however. Several of you recognized the blue as some sort of fabric and guessed a sweater or coat with a furry collar.
Robin and Marji, who guessed twice, said butterfly. Lisa did too, but her husband said I'd never post a butterfly picture right after a moth picture. So he guessed a bee and so did Kathi. I could imagine it might be a bee, and you never can tell about me posting that butterfly right after the moth. Well, actually Lisa's husband was right. I probably wouldn't do that. Probably. Unless I wanted to be really tricky and mysterious. : ) April got her husband to guess too and he said a baby pig. What a neat guess. Wrong, but neat. Several of you decided it was an animal's ear, Kari said a pig's ear and Amy voted for a cat's ear and Linda said a teddy bear's ear. Michelle decided it was a caterpillar. An interesting and very astute guess was Diana thinking it might be an oil lantern wick. I can see that. It isn't, but I can imagine that guess. Not as clear on Nancy's lint remover guess, but I could use one of those after I've had an English Mastiff visiting this week. Boy, can he shed! And my vacuum cleaner took the studs this afternoon.
Another "it takes a lot of imagination" guess was Sandi's peach. Not sure where she was coming from with that one, but she said she'd just watched a cooking show about peaches. Ola thought it might be a stuffed animal and Betty was seeing some worn out frayed suspenders on jeans or a button in the ear of a teddy bear. Fun guesses.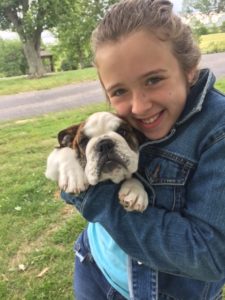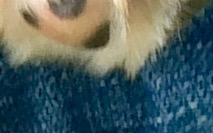 Of course, some of you were much closer to right. Judith said an animal on a sweater and Jeanne said a dog's tummy. Paula said a dog toy or a hair clip.  Interesting combination there, Paula, but dog is in there. Then several of you were exactly right. Meagan said a dog or cat foot. Shirley said a puppy's paw. Judy said a doggie with a blanket and Rory said a dog's paw on a sweater. If I hadn't been the one taking the picture and snipping out a mysterious piece of it, I would have never guessed this one myself. I had never seen spots on a puppy's paw like that. This is an English bulldog puppy that my granddaughter was very happy to hug and let lick her face.
Great guesses, everybody. And now you can guess on the picture up top and get another entry in the drawing to perhaps win some books. I'll pick three winners after the July 3, 2017 midnight EST deadline. So there will be one more mystery picture Sunday if I can come up with something suitably mysterious. I hope you're having fun playing the mystery photo game.
Whenever I want to laugh, I read a wonderful book, 'Children's Letters to God.' You can open it anywhere. One I read recently said, 'Dear God, thank you for the baby brother, but what I prayed for was a puppy.'  (Maya Angelou)
Save
Save