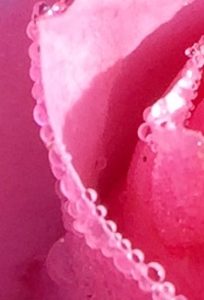 Dads:
Every morning, my dad would have me looking in the mirror and repeat, 'Today is going to be a great day; I can, and I will.' (Gina Rodriguez)
Happy Father's Day! Isn't it fun to celebrate our dads whether they are still with us or not. And I love the quote that shows Rodriguez's dad believed in positive thinking. I can't imagine my dad doing anything like that. He was a country farm boy who could work algebra problems in his head. He always got the right answers, but he didn't have all those steps the teacher wanted on our papers. He had a sense of adventure and headed across country to Oregon on his motorcycle the day after he turned twenty-one. That was in 1931. But the most important thing, for me, about my dad was that he loved me and my sisters. He provided for us. Taught us the value of work and the perseverance to finish a job even if it was one we didn't like doing. He was a good dad.
Mystery Picture Game
I promised a new mystery picture game, so up top is the first mystery picture this time. Can you guess what it is? The way the game goes is you leave a comment with your guess or a comment saying you have no idea or for fun you can guess something crazy. Right or wrong or simply puzzled gets you entered in a drawing for your choice of one of my books plus a grab bag book by another Christian author. Oh, and it is more fun if you guess first and read everybody else's comments later.
I'll post five mystery pictures in the next couple of weeks (if I can come up with that many.) Deadline to enter will be July 3, 2017 at midnight EST. I'll pick three winners by random drawing and contact the winners via e-mail before I reveal the winners' first names here on my blog July 5th. The contest is open all over 18. No purchases or actions, other than the comment, are required, but of course I'd love it if you signed up for my newsletter or followed my blog here. But that won't get you an extra entry or anything. However, each time you make a guess on a new mystery picture, you get another entry in the drawing. Is that all clear as mud? I hope it's clearer than the mystery picture anyway. I never know if I've found a good mystery photo or not until the guesses start coming in. Sometimes you all guess it easy as pie and sometimes you don't have a clue.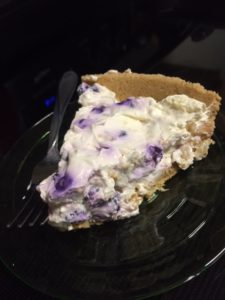 Pie
Speaking of pie – we were, weren't we? I promised Karen I'd share my low cal diabetic pie recipe. I stirred a few raspberries in this one and that's why there are purple splotches. I think the time I made it and added sliced strawberries was better. But here goes with the basic recipe.
Pineapple Cream Pie
Ingredients:
1 (20 ounce) can crushed pineapple in juice
1 (1 ounce) pkg sugar-free instant vanilla pudding mix (4 serving size)
1 cup sour cream (low fat works fine)
1 graham cracker pie crust (9 inch)
1 (8 ounce) carton whipped topping (low fat or fat free works fine)
Directions: Mix all ingredients until well combined. (The recipe says to drain the pineapple, but I don't. It still works.)
Spoon mixture into graham cracker crust. (I sometimes use 2 of the 8-inch crusts) Spread whipped topping on top of pie. (I don't do that and I don't use a whole carton of the whipped topping in the pie. I just spoon some in until I think it's good.
As you may note, I'm an independent cook who doesn't always follow the recipe.) But then chill until serving. Last of all, enjoy. I'm not pre-diabetic the way my husband is and I love my sweets, but this pie still hits the spot for me. Of course there is some sugar in the graham cracker crust and the whipped topping, so if you are on a very strict diabetic diet, this pie might not be for you. But if you think it sounds good, you can be like me and experiment. It would probably be good in parfait glasses although not as good as with the graham cracker crusts. I like those graham cracker crusts.
Oh, and then it says to serve and enjoy!
Thanks so much for reading. Hope you all had a blessed Father's Day. Now put your thinking caps on and guess what that picture is.
Save