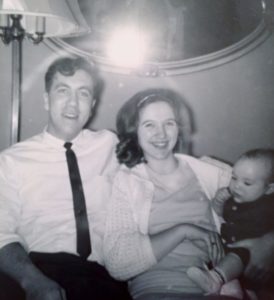 Our birthdays are feathers in the broad wing of time. Jean Paul
It's Darrell's birthday. He's gathered quite a few of those feathers in that broad wing of time. And we've shared most of those years together.
He says he doesn't expect a big celebration, and he didn't have one today with a doctor's appointment taking up his morning and mowing the yard this afternoon. We'll celebrate with the some of the kids this weekend.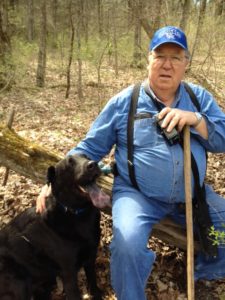 When he was a boy, he said he usually had to help his father set tobacco on his birthday. His dad was a tenant farmer who raised tobacco and milked cows. Darrell learned to work right alongside his father at a young age since he was the oldest son. He had three younger brothers. He and his next oldest brother sometimes disagree about who had to work the hardest, but Darrell has no doubts it was him. 🙂
After we married, we probably still had to do some of that farm work on his birthday, but I always made him a special dessert. He used to want pecan pie or banana split cake. But then with age, a guy has to sometimes give up the extra sweet desserts. So tonight I made him a sugar free pie. Well, mostly sugar free. The pie has pineapple, sour cream, no sugar vanilla pudding and whipped topping. I sprinkled on some raspberries to dress it up for his birthday. That in a graham cracker crust is pretty good and it's the easiest pie I've ever made. But maybe not on quite the same level as pecan pie.
Still, we carry on, counting our blessings of a good life together. Great kids who married beautiful people and then presented us with some great grandkids. You can't have those fun grandkids without adding on a few years. But each year is a gift and birthdays are days to celebrate. You don't have to count them. Just enjoy them.
Age is a case of mind over matter. If you don't mind, it don't matter. (Satchel Paige)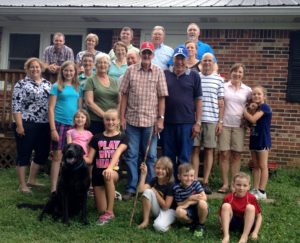 A few years ago when Darrell had one of those zero birthdays, I had a big family party for him, and we even got everybody to stand still for a picture. Birthdays are great reasons to get the family together and have a good time.
Do you like celebrating your birthday? Do you get a special dessert? I used to always make myself a cheesecake. Nothing fancy. Just one out of those box mixes with fruit on top. Now I'm happy with an Angel Food cake, but I still like the strawberries with the cake.
As always, thanks for reading. And get ready. Sunday I'm starting a new mystery photo game. I've already picked out some pictures to try to trick you. Prizes will be books. Mine and some other authors too. You might win some summer reading.