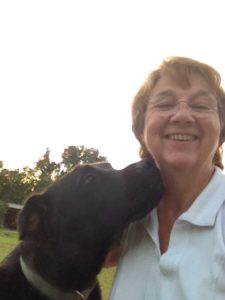 One of the most enduring friendships in history – dogs and their people, people and their dogs. ~Terry Kay
Some of you who read my posts here and on my Facebook author page have gotten to know my dog, Oscar. I've had him about eight years. My husband found him on an internet site where his owners were trying to find him a good home. They had rescued the poor dog from a ditch by the side of a road and taken him home. They knew he was a treasure and wanted to keep him but they were horse trainers and had to be on the road. They decided that wouldn't be a good life for a dog like Oscar.
They did give him his name and it's good they did. My husband had been shopping for dogs for weeks. I don't know why except he just decided we needed another dog even though we had a dog. He'd find a dog on the internet dog giveaway sites and tell me about it. I'd say we already had a dog and that dog was enough, but then he showed me Oscar's picture and told me his name. That name got me for some reason, and I said if you want to, go get him. So he did. It was love at first sight when Oscar jumped down out of the van and sat at my feet looking up at me. I had a new dog, one of those "this is my dog and I am his human" type of dog and owner relationships. That's the way it's been ever since. My dog, Oscar.
I've written on here before about what an unusual dog Oscar is. Here's the link to Odd Dog Oscar  if you're interested. He doesn't like to ride in cars. He's obviously part lab but he doesn't like to swim. He'll sit in water to cool off, but forget the swimming. He didn't want to come in the house and for several years was an outside dog. Until somebody working on our house accidentally ran over him and broke his back leg. Surgery and big vet bills followed. Oscar had to come inside to recuperate and he's been my companion in my office while I work ever since. But he won't go through the kitchen door and stays either in the enclosed sun porch or my office. He's the best writing companion I've ever had.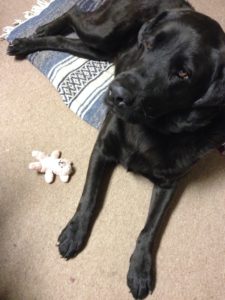 A few weeks ago, he started limping. He has arthritis and so the vet kept giving me medicine for that. But it didn't help. So finally I took him for an x-ray. Bad news. Very bad news. Instead of arthritis, Oscar has bone cancer in his leg. Aggressive cancer. And I am sad. Very sad. But he's got some new medicine and he's hanging in there right now. I'm hoping for a little more good time or at least not too bad time for him while I get ready to say goodbye. Something I'm not ready to do yet, but when the time comes, I know Oscar will be braver than me. Because he's a very good dog.
Here he is with the girls a few years ago. This picture makes me smile. He does love those girls. And right now I need some smiles.
Thanks for reading and letting me share with you about my dog, Oscar.