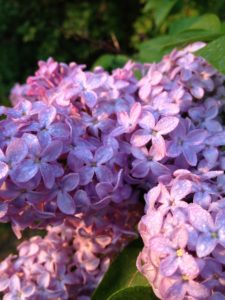 My spring giveaway is finished. It was fun hearing about all your favorite flowers. Some favorites were hardy varieties easy to grow like daffodils, sunflowers, tulips, iris, sweet peas and columbine. Sometimes the flowers were the kind Mother Nature plants and tends, like field daisies, Dutchman's Breeches, honeysuckle, and violets you find out in your grass lawns. We had the ones you might expect like tulips, roses, lilacs, lilies, lily of the valley, peonies, orchids and pansies.
Some rang memory bells for me and I would think, yes, that's a favorite of mine too. Flowers like gladiolas, hyacinths, hydrangeas, gardenias, and lilacs. When I was a little girl I used to say sweet peas were my favorite flower because when I was in the first grade I had a non-speaking part in a play where I got to stand at the back of the stage and be a sweet pea flower. A perfect roll for a shy little girl like me. And sweet peas are sturdy, old fashioned flowers that are colorful and cute. Of course we had a few favorites that people said made them remember their childhood like orange blossums, peonies, hollyhocks, snowball bush, and morning glories. So many favorite flowers.
I have a hard time narrowing it down to one favorite. In the spring I love lilacs. But then I love the cheerful tulips and daffodils too. Somebody said willow tree and that took me back to when I was a kid and we had a willow tree where you hide out under the drooping branches and be in a private little world of your own. I remember running and playing among the hollyhocks that grew all over our yard and sometimes we tormented bees by catching them in a jar from the blooms and then letting them fly free again. Never did get stung. I made a game of jumping over the peony bushes in my aunt's yard every time I went to visit. It just seemed like an accomplishment, maybe because I was always an awkward kid. So thanks to all of you for mentioning flowers that jogged my memory or brought beautiful images to mind.
Then there were the few of you who mentioned actually growing things you can eat like carrots, asparagus, tomatoes, cucumbers, peppers, peas, zucchini, okra and pineapple. Pineapple you say?? Yes, indeed. Here's Linda's story.
When my daughter moved to Hawaii several years ago, she shipped 2 fresh pineapples to me from the Dole pineapple plantation. I planted both tops and was surprised when I actually grew my very own little pineapple a couple years later. It was delicious and so much fun!!!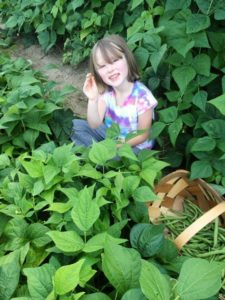 I've had a lot of gardens with beans and tomatoes, cucumbers and zucchini. Never tried pineapples. But I have at times had some fun help picking those beans.
Now for the Winners –
The winners of my Spring Gardening Giveaway have been notified and I've heard from them all. I will get their prizes in the mail next week. Connie L of NC won the Willow Tree Gardening Angel and chose my book Murder Is No Accident. Four other winners received their choices of one of my books. Jackie W of CA picked the first Hidden Springs mystery, Murder at the Courthouse. Linda H of MS who grew that pineapple picked Murder Is No Accident and so did Janet E of FL. Joan K of SD said she had already read eleven of my books but she had not yet Scent of Lilacs, so that's the one she picked.
Thank you all for taking part in my giveaway and flower fun. I'm thinking it might be almost time for another mystery picture contest on here. I think I've got a stumper already. What do you think? Are you ready to guess on some new mystery pictures?
As always thanks a bunch for reading.