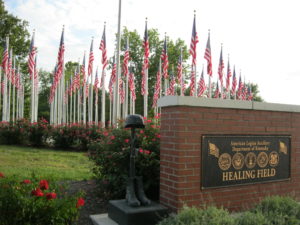 The brave die never, though they sleep in dust: Their courage nerves a thousand living men. ~Minot J. Savage
Our present day Memorial Day which began as Decoration Day was borne out of the Civil War and a desire to honor the soldiers who died in that war (over 600,000 men.) The holiday was officially proclaimed on 5 May 1868 by General John Logan, national commander of the Grand Army of the Republic. "The 30th of May, 1868, is designated for the purpose of strewing with flowers, or otherwise decorating the graves of comrades who died in defense of their country during the late rebellion, and whose bodies now lie in almost every city, village and hamlet churchyard in the land," he proclaimed. The date of Decoration Day, as he called it, was chosen because it wasn't the anniversary of any particular battle. (Source: http://www.usmemorialday.org/?page_id=2)
For years the northern and southern states celebrated Decoration Day on different dates, but by the twentieth century, the days were merged and the name eventually changed to Memorial Day. The Day was extended to honor all Americans who died while in military service. In 1968, a number of the holidays including Memorial Day were changed to Mondays to make a long weekend. Memorial Day was changed from May 30th to the last Monday of May. Many veterans were unhappy with this change as they felt people would consider it simply another holiday and they would forget the significance of the day set to honor those who gave their all in service to our country.
While the day is specifically to honor our fallen soldiers, many people now take that day to place flowers on the graves of all loved ones, and not only those who made the ultimate sacrifice to ensure our country's freedom. It's a good time to remember.
In December 2000, a resolution was passed by Congress that asks all Americans to pause at 3 p.m. local time "To voluntarily and informally observe in their own way a Moment of Remembrance and Respect, pausing from whatever they are doing for a moment of silence or listening to  'Taps.'"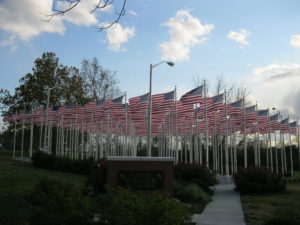 The pictures at the top and here with flags waving in the wind are from The Healing Field in my hometown of Lawrenceburg, KY. The field of flags is very impressive. By the sign are the boots, gun and helmet representing the fallen soldier. Each flag flies for an individual soldier who lost his or her life in service to our country. If you'd like to see more pictures of this heart-stirring memorial, here are a couple of links. You can also read a little about the intended purpose of The Healing Field.
http://visitlawrenceburgky.com/healingfield.cfm
https://www.facebook.com/pages/The-Healing-Field/156575531022083
And so we remember.
Thanks for reading. And keep in mind you still have time to enter my giveaway, if you haven't already entered. Deadline for entries is Wednesday, May 31, 2017 at Midnight EST. For details of the giveaway hop over to my News & Events Page and read all about it.
Save
Save
Save