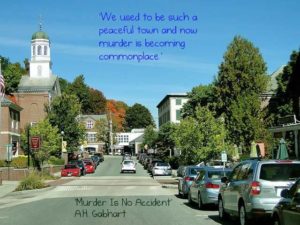 "As an inspiration to the author, I do not think the cat can be over-estimated. He suggests so much grace, power, beauty, motion, mysticism. I do not wonder that many writers love cats; I am only surprised that all do not." (Carl Van Vechten)
My dog, Oscar might take offense at that quote. Oscar's a great writing companion, but cats are neat pets to have around too. Even though I haven't had a cat of my own for years, I do enjoy others' cats. And I liked including cats in my Hidden Springs Mysteries. Two Bits starred in Murder at the Courthouse, Grimalkin in Murder Comes by Mail, and Miss Marble in Murder Is No Accident. However, as for those writers having cats, I have been told that, at times, they like to lie on your keyboards. Not sure that would be helpful, but then a broken finger hasn't kept me away from the keyboard. I've learned to type around a finger splint. Maybe I could type around a cat. There have been times when a cat could probably come up with better scenes than I do. But Oscar just gave me a look and nixed the idea of a cat. 🙂 He's ready to inspire me with a few good lines.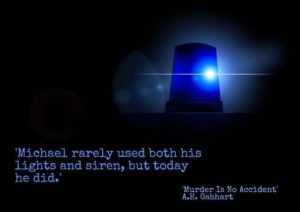 I do manage to pull out a few good lines now again. One of my reading friends, Susan, took some of those lines and made graphics with them. Such fun. Thanks, Susan. I remember when someone, I think Susan again, did this for one of my earlier books, and I'm thinking where did she get those quotes. Then it dawned on me they were from my own book. I did remember both of these quotes pulled from Murder Is No Accident. Aren't the graphics neat?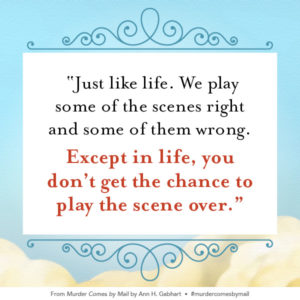 My publishers send some graphics out to me too. They haven't sent any from the current mystery, but I liked this one from Murder Comes by Mail.
But on to the Important Stuff – Winners!!
I picked the three winners of my mystery photo game. I thank all of you for guessing and making the game fun for me. I hope it was fun for you too.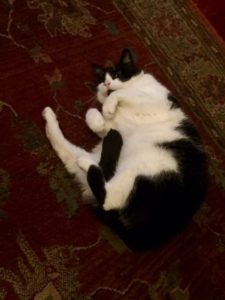 I wasn't very mysterious with this last picture. I was sure more of you would see a bunny rabbit or something, but you must all be cat pe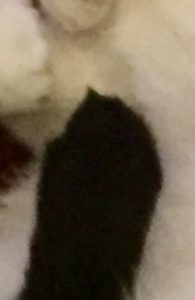 ople. You guessed it right away. Well, some of you thought it might be Oscar's paws. I guess it could have been his black paw but the only white on him is three or four hairs on his chest. I did have a couple of you guessing different things to make me feel better. But maybe it was your time to feel smart with your guesses because many of you got it right with the cat paws. This is the rest of the picture – my daughter's cat, Finn, relaxing or maybe begging for attention like a belly rub.
I appreciate some of you letting me know you enjoy the guessing games. We'll do it or some other kind of game again soon.
"The problem with cats is that they get the exact some look on their face whether they see a moth or an axe-murderer." (Paula Poundstone)
What's that? You want to know who won? Well, it wasn't my Kentucky Wildcats. 🙁 Very sad here. Oh, you mean the winners of the drawing for books.  Of course. I don't want to talk about basketball right now anyway. I did throw a number for each of your guesses in the hat and let Random.org pick out three numbers. And the winners are: Kathy S, Sandi K-W, and Lisa B. They each won their choice of one of my books. I've sent all three of you e-mails, so check your e-mail box. As soon as I hear from you, I'll get your books in the mail.
Thanks again to all of you who helped make my Mystery Photo Game fun. And as always, thanks for reading!
Save