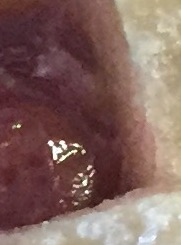 It's mystery picture game time. I'm a little late with the post, but a couple of granddaughters decided to spend the night. That slows Grammy down. Actually a grandson and some friends are camping here on the farm too, but they can manage on their own. Way too cold for me. Not that I've ever done any camping. Once the family camped out back there a long time ago, but the house was close. I had a young toddler and so we came to the house where there were beds. So I've never really experienced sleeping on the ground camping. Thinking now I never will.
But I promised a mystery picture puzzle game again and so here it is. This is the first picture. I thought maybe it was a good one, but the more I look at it, the more I'm sure it won't be much of a mystery. But anyway, take a guess. Right or wrong – the guess will get you an entry into a drawing for one of my books, including the new Hidden Springs mystery, Murder Is No Accident, if that's the winner's choice. I'll pick three winners at the end of the game on Sunday, March 26th. You have to be 18 to enter the drawing, but your kids can help you guess. Each guess on a new picture gets you another entry in the drawing, but only one guess/entry per mystery picture. Oh, and it's also more fun if you guess before you read everybody else's guesses.
So, ready set go. And meanwhile I'll be thinking hard on a new mystery picture to post on Wednesday.
Today was my daughter's birthday and I didn't get to tell her happy birthday. The first time ever I've not at least talked to her on her birthday. I called a couple of times but she's traveling and perhaps didn't get the call. My son once several years ago called me on his birthday when he wasn't at home because he knew I'd be trying to reach him. I'm going to tell my daughter that's what she should have done, but then perhaps she's having so much fun celebrating life that the day sped by too quickly to call. I'll make her talk to me twice as long next time she calls. 🙂
As always, thanks for reading.
Save
Save
Save