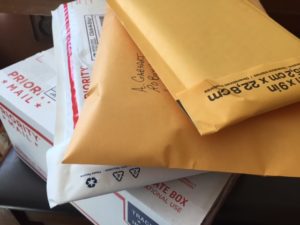 And so the prizes are winging their way to the prize winners, Amy and Cathy and Peggy. Still haven't heard from Lou Ann even though I've sent two e-mails. May have to draw a new winner for that 3rd prize if I don't hear from her soon. I know. You're counting the packages and seeing four. The fourth is a prize book sent out for a different blog giveaway. If you didn't win a book this time, check out my events page to see where I'm going to be visiting around on the net in the next couple of weeks. If you follow me over to those other blog posts, you might have a chance to win my new book. None of my three winners picked the new book. Amy picked the first Hidden Springs mystery, Murder at the Courthouse. Cathy picked my first Shaker book, The Outsider, and Peggy wanted her favorite of my books, Scent of Lilacs.
While next Sunday I hope to start a fresh giveaway exclusive to my blog readers with a new mystery photo challenge. I've been experimenting with pictures and think I have some that might be fun to guess. But before that, how about a few more first love stories.
Nyla made me smile with her short and sweet story that proves you should never say never.
The first time I met my husband I told my girlfriends I would never go out on a date with him.  We have been married since 1988.
Fran has a really first love and then a lasting love.  Here's what she wrote.
Not that it was the first "romance" of my life but fate gave me my first "boyfriend" the day I was born. Both my Mother and her best friend and neighbor gave birth on the same day. From that day through middle school we were considered a couple (but, needless to say, we were like bro and sis). The one who really captured my heart, I wrote about to my Facebook friends yesterday.
"Today, ten years ago, was the last time I saw those blue eyes that I first saw looking at me through the rear view mirror when he gave my sister, a friend….and me…a ride to school. It was a beautiful day and we were enjoying walking but wouldn't have turned down the offer from that fellow for anything. I was blessed with 52 years after that day. We added three sons, three grandsons and three granddaughters to this world who each look like him in various ways. I think we did good."
And then Donna has this story of the day she met her future husband.
In college I finally gave in to a friend who constantly bugged me to go on a blind double date with his best friend. They pulled in to my parents driveway, got out of the car, and this voice in my head said 'that's the man you're going to marry', totally knocked me speechless! Eventually I got my breath back, laughed and went out on the porch to greet them. Never doubt the voice of God – 40 years later and still together!!
Donna's story reminds me of my mother's story about when she met my dad. They were on a double date but dating other people, but Mom always said she knew as soon as she saw Dad that he was the man she would marry.
Do you believe in love at first sight? I guess my mom did.
Thanks again for all your wonderful stories.
If you are in my hometown area, I'll be having my first book signing for Murder Is No Accident on March 11, Saturday, at the store, Tastefully Kentucky, here on Main in Lawrenceburg. I'll be there from noon to 3 p.m. and would love to meet you. I'll also be having a book party later, April 2, 2017, with a book talk, door prizes and more here in Lawrenceburg. Stay tuned for more info about that or check out that Events page here on my website.
As always, thanks for reading. You're the best.
Save