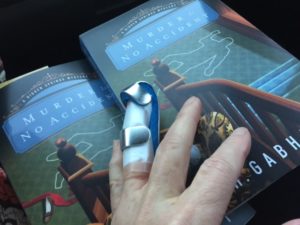 Some days it doesn't pay to take a walk. First off this morning, March definitely came in like a lion around here with storms and winds. Lightning. Thunder. Even hail. And pouring rain. Over 2 inches last night and today. And nearby communities had it worse than us.
But then the storm passed on to the southeast and so, as I am a dedicated walker, I put on my old shoes and headed out with my dog, Oscar. I'd had a pretty good morning writing and was looking forward to a good afternoon getting more words down. What is it they say? Best laid plans of mice and men. Meaning, of course, that plans often go awry.
Oscar's arthritis was giving him fits but he came along, limping a bit. But he was game, even if he took a few shortcuts. Me, I didn't do those shortcuts. I was zooming right along, carrying my weights to give my walk a little extra oomph. And then I stepped in some slippery mud. Oops! And down I went. Somehow my finger got smashed by the weights I was carrying. Don't ask me how. As they always say, it happened so fast. I just know I ended up on the ground with a nasty, very smashed finger. Blood dripping in the mud and everything.
So back to the house I come, after I finish my walk, of course. Got to get in those steps! I put peroxide on it. Show it to my husband in a bid for sympathy. Think I can just bandage it up and all will be hunky dory. But the mashed open cut keeps bleeding and it looked pretty bad and I do depend on my fingers for a lot. So I googled how to treat mashed fingers. Isn't that what you always do? Google it to find answers. Those crazy sites kept saying if it looked this or that way (and it did), go to the doctor. And there was that problem of not stopping bleeding. So, okay. Maybe I need a stitch or two. Off to the walk-in clinic.
The PA looks at it and says she can't stitch it up without an x-ray to be sure it's not broken. Broken?! It's not broken, I say. But their x-ray technician is off for the day. So after waiting around to be sure they couldn't work out a way to take care of me, the nice woman sends me off to the Urgent Care Treatment place. Thank goodness they opened one recently here in our town. I fill out information. More sick people come in and have my husband worrying about catching something. Me, I'm worrying about bleeding on their floor.
They say we have to do x-rays. The girl who does them says, "Oh yeah, it's broken. Want to look?" I looked. It was broken. Cracked in several places, but no bones floating around. Everything seems to be still in place. Smashed in place. And so, on to the stitches. But you better take that ring off. Easier said than done. I don't take my wedding ring on and off. It takes a lot of soaping to get it off at the best of times and this wasn't the best of times. My finger had already swollen a little. But somehow by using a lot of liquid soap and cold water I got it off before they found their ring cutters. The doctor asked if I couldn't replace the ring. I said sure, but not with one over 50 years old.
Once the ring was out of the way and the finger was nicely bleeding again from the struggle, they cleaned it and gave me many shots before the very nice doctor put in 3 stitches. Then she said I'd have to wear a splint. Wait a minute! I can't type with a splint. I have a deadline! That's bad and they really did sound sympathetic, but they still put a splint on my finger. For how long? About 4 weeks. 4 weeks! The s & w & x finger. The s is what I really miss. But here I am typing, albeit slowly, with a splint on my finger. Maybe typing slowly will give me extra time to think up ideas for my story. Got to find the positive in this somewhere. Oh, the doctor did say she liked to read and would love to read one of my books. But what a way to get a book sale!
But then when I got home, the UPS man brought a carton or two of my new book, Murder Is No Accident. Adventure all around. New books, a fractured finger and learning to type with nine fingers.
Remember you still have time to enter my giveaway, but time is running out. I'll pick the winners Sunday. See details on prizes and how to enter on my News & Events Page. Also Murder at the Courthouse is still a free download and is getting some nice Amazon reviews from readers.
As always, thanks for reading. And you thought you would be reading more first love stories. 🙂
Save