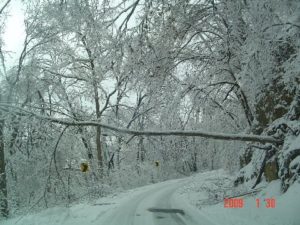 I'm guessing that hardly any of you can remember when you didn't have electricity. I don't. There have been those times when we have had power outages for one reason or another. Two times in the last few years we lost electricity for a week due to ice storms. In the terrible ice storm in 2009, light poles fell like lines of dominoes in some places. I remember thinking about doing this or that only to realize most everything took electricity or that's how it seemed. I suppose it was a great time to wrap up in a quilt and read until it got dark or your flashlight batteries went dead.
Actually at the time, we were fortunate to still be heating the house with a wood stove. That also worked for heating water for tea and cooking soup. Now we no longer have the sto

ve, but my husband did buy a generator. So far it's kept the ice storms away. I hope it keeps working.
But my sister found this check my father wrote to pay someone for wiring our house and the barn back in 1947 that made me think about when the electric lines were first strung out to the house where I grew up. I'm not sure what it cost to hook onto the power lines or whether there was a charge. I think people had to sign up that they would hook on to the lines. But once the electric company set the poles and put up the lines, the houses had to have wires threaded through the walls to light fixtures and plugs. Some of the lights were simply a bare bulb with a string to pull it on. Others had fixtures with a place for two bulbs and wall switches to turn the lights on. The lights weren't extra bright by today's standards, but can you imagine the difference it was from the oil lamps and candles that had previously been the light?
And then entertainment came with the lights. Now you could have a radio that wasn't battery powered. And eventually Dad bought a television. Mom got an electric stove for cooking and an iron she could plug in. She didn't have to iron clothes with irons heated on the stove or a gasoline powered iron. Dad could get an early start on his work day with lights in the barn. And in the summer, he could plug in a fan to stay cool. Electricity changed the way they did so many things. Made things easier. Made the night brighter.
That $182.85 was a good chunk of money seventy years ago. The minimum wage was forty cents an hour. A loaf of bread cost twelve cents. But I'm pretty sure that, while Dad no doubt complained about the price, he and especially Mom thought having electricity was worth every penny. However, I did get fussed at when I was a kid if I left a light on when I left a room. You didn't waste electricity. Times do change. Now we have lights, computers, and appliances we leave on all the time. And we're very unhappy when the lights go out.
Still, if we do have a power outage, I have plenty of books I could read and pencils and notebooks for writing. But I would really, really miss my computer and my hot tea. So I'm hoping we keep the lights on.
What do you miss most when you have a power outage?
Save