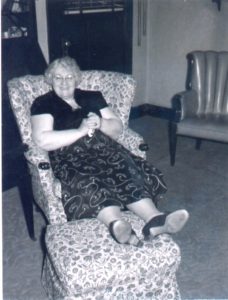 I've been giving you a behind the scenes look at how I go about beginning a new book. First I let you peek at a character sketch for my new character in Murder Is No Accident, Maggie Greene. Sunday I told you about how an old house in my town was the spark for the new mystery idea. Then a day or so ago one of you asked where I came up with the name Fonda. So tonight I'm going to let you see part of my character list for Hidden Springs mystery number 3. I could show you the entire six page list that includes characters for all three Hidden Springs mysteries, but your eyes would probably glaze over. My Hidden Springs town doesn't have a big population, but it does have plenty of people.
So meet Fonda Joyce Chandler Elwood. This isn't really her. This is just a picture I grabbed off a free photo site, morgueFile Free Photos, because she looks sort of the way I imagine Miss Fonda, except she appears more cheerful than my old lady in the story.
So here is how I keep up with who is who when I'm writing.
Hidden Springs 3 New Characters
Fonda Joyce Chandler Elwood (80) –owner of the old Chandler house (born 1935)
Husband Gilbert Elwood – died when he was 75 when Fonda was 70
(No children – one child stillborn)
Brother – Randall Chandler – killed in auto accident while away in the Army (born 1931 – 21 when he died)
Sister – Audrey Chandler Carlson (Lyndon formerly) – born in 1945 – died of suspicious causes in 1980
(Had one child – a son, Bradley Jr. (born 1971) Husband Bradley Carlson moved away and remarried in 1981.)
Lorene Waverly Carlson (born in 1946) Died when she was 45 (Bradley's second wife who died of what was ruled suicide in 1991) (Divorced with large settlement from husband Dennis Waverly)
Lana Waverly 49 (born in 1966) (Lorene's daughter who never believed Lorene committed suicide)
Maggie Greene – 15
Mary – mother
Curtis (Curt) – father
Jesse – younger brother – 6
Dog – Bertie
Secondary Characters
Ellen Elwood – 75 – Wife of cousin to Fonda's husband Gilbert Fred (deceased) who is Fonda's power of attorney
Daughter Pam – 52 – lives in Arizona
Sonny (changed from Freddie) Elwood – 40 – Ellen & Fred's son who works at the bank and has a gambling problem
Geraldine Harper – 1st victim – real estate realtor
Son – Grant Harper
Florence Stamper, Etta Williams, Della Jenkins – the three other women at the Gentle Care Home
Brenda Gibson – owner of the Gentle Care Home
Felicia Peterson (formerly Barton) – 30 – Ellen's friend's daughter she hires to spend some time with Miss Fonda while Ellen is in Arizona
Vernon Trent – 35 – Antique/junk dealer
Willard Jefferson (deceased) – Author of the Keane County History written in 1954
Truett Johnson – long ago sheriff (died of a heart attack)
Mrs. Paxton – car getting oil changed at T.R.'s
Bill Ridner and Stanley Campbell – have a fender bender in church parking lot
Mrs. Bottoms – Maggie's bus driver
Becka – Maggie's friend on the bus
That's probably more than you wanted to know and your head may be spinning from all those names. But it's important that I keep a list so that when my head starts spinning while I'm writing I won't give someone a new name.
So how do I pick all these names? With a character like Fonda or Maggie, I test drive a number of names before I settle on one. And even then I have been known to change a name deep in a story. I just did that in the story I'm writing now. A name of a major character has to work. Fonda, which I may have picked out of my baby name book, just seemed right for my old lady. That book is literally falling apart. I must have used it to name the characters in my first novel many, many years ago. The book is now held together with a rubber band and the pages are tattered and brown with age. But it's still the name source I like best. I like to leaf through the book and let this or that name catch my eye as a possibility. I'll write the name down on a sheet of paper along with all the other names that I think maybe might work. And then I pick whichever one sounds right.
For minor characters, I don't put in that much work. I just think up a name on the fly and then right it down before I forget it on the fly. I try not to have too many names that sound alike in one book. I keep a master list of my main characters' names from all my books so I won't use the same names over and over again. A few of the names I changed as I was working on their character, but I kept the old name just in case I changed my mind again.
I enjoy naming characters. In this series the character I had the hardest time naming was my newspaper editor. He started out as Miles, a name I really liked for him. But then I got to thinking about my main character being named Michael. Too much alike. So I was on the hunt for a new name for the editor. I even asked on Facebook and got dozens of great suggestions for the editor's name. It's been a while so I'm not sure if a reader suggested Hank, but wherever I grabbed the name, it worked. Short. Nothing sweet or sentimental about it. To the point. Perfect for my newspaper editor. At least I thought so.
And so name by name, I drop people down into my little town of Hidden Springs. It's fun named a town full of people.
Do you sometimes get the picture of a new character just from his or her name? Have you read stories where you thought the name of a character just didn't fit?
This is your last chance to throw your name in my drawing hat to perhaps win a copy of one of the first two Hidden Springs mysteries, Murder at the Courthouse or Murder Comes by Mail. Just leave a comment on this post to enter. You must be at least 18 years old to enter. Phyllis, last Sunday's winner, picked Murder Comes by Mail. One more winner for this giveaway and then I've already got prizes lined up for my book release celebration to come in a few weeks. I think you'll like them. That giveaway is coming soon.
As always thanks for reading.