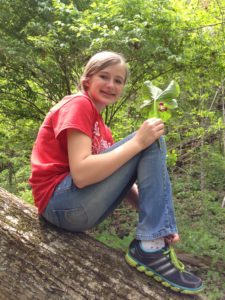 My Hidden Springs Mystery book giveaway here on One Writer's Journal is ongoing as an early celebration of the coming release of Hidden Springs 3, Murder Is No Accident (coming in March). That's why I decided to take you behind the scenes and let you get a glimpse of how I get to know my characters. My grandgirl here could have been a model for Maggie who is one of the viewpoint characters in my new mystery. She wasn't, but she could have been. Right age. Deputy Sheriff Michael Keane is still a major viewpoint character and Aunt Lindy has a few scenes too, but it was fun introducing a fresh character. But to do that I had to get to know Maggie.
So here's a glimpse at some of my pre-writing, that writing that I do before I actually start writing a book.
Maggie Greene – 15
Maggie is a hard luck girl. Cute and smart and determined to make something of her life. Her parents are struggling to make ends meet and have some problems getting along. They're working too many hours or the mother is because the father lost his job. The factory where he worked moved to Mexico or somewhere overseas. He's a guy who identified with being able to make money and now he can't find a job that pays anything. He can't stand the thought of working as a dishwasher or busboy or janitor. He keeps looking back instead of forward. Back to when he was making a good wage. Now he has to wonder where it went. They have two other kids younger than Maggie. One son who's 8 now had health problems when he was born. Had to have heart surgery and even though they had insurance, it didn't cover everything and that's where the money went. He also bought a nice truck before he lost his job and the payments on it are pulling them down. That plus health insurance. Mother makes money cleaning houses, but no benefits to that. Sometimes Maggie helps her, which is how she knows about Miss Fonda's house. Maggie's mother used to clean the house twice a month before Miss Fonda went to the nursing home.  
They live in a trailer – manufactured home her mother says – over in the trailer park with the other families who are in some of the same boats as Maggie and her family. Some much worse off. In spite of the arguments between her parents, they are still a family with a mother and father.
That's just a little of my ideas very early on about Maggie. Things changed. She ended up with only one little brother, Jesse. She had more of a friendship with Miss Fonda, the old lady who owns the big old Victorian mansion that is the major setting for the murder mystery. In the story Maggie gets to have a little romance. But most of all, I hope readers will really like Maggie and be with her in every scene.
If you'd like to know more about Murder Is No Accident, check out its book page. The book is available for pre-order now at on-line sites. But first, if you haven't read the first two Hidden Springs Mysteries, Murder at the Courthouse or Murder Comes by Mail, here's your chance to win a copy. Even if you have read them, you surely know a friend who might like the story. All you have to do is leave a comment on one of my blog posts this week or next. Each comment on a new post gets you a new entry. You do have to be 18 to enter. One winner, Joan, has already been picked. She's getting Murder at the Courthouse as soon as I get to the post office. I'll draw a new winner on this Sunday, January 22, and next Sunday, January 29.
So, did you enjoy looking behind the scenes at how I got to know Maggie Greene? Do you think she'll be a character you will enjoy getting to know in my new mystery?
As always, thanks for reading. I'm a day late with this post, but with the holiday Monday, I forgot it was Wednesday. That's sad, isn't it? 🙂
Save