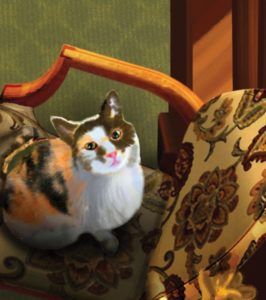 A cat will do what it wants when it wants, and there's not a thing you can do about it. ~Frank Perkins
Are you a cat lover? If you follow my blog or join the conversation on my Facebook page, you know that I'm a dog person. That doesn't mean I don't like cats. It just means that dogs trump cats in my affections. After all, I do have Oscar. But I enjoy cats. Both my sisters have cats. Beautiful animals with their unique personalities. You do have to admit cats have personality. That's what makes them especially fun to drop down into my Hidden Springs mystery books.
When I was first adding a new cat to my upcoming Hidden Springs mystery, Murder Is No Accident, I decided to go calico and I asked for name suggestions. Boy, did I get name suggestions! Good ones too. Lots of Callies and some others that said anything but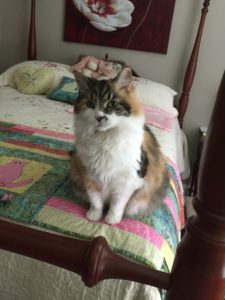 Callie. My sister said Martha since that's the name of her calico cat. A good name. Here's Martha. She could have posed for the cat on my new cover. If you want to know all the wonderful names suggested, you can check out my post from June 2015. I don't know why the pictures aren't showing up in that post, but if you click on those squares you can see all the beautiful calico cats that readers shared with me.
In the end or should that be beginning, I settled for a name my daughter suggested. Miss Marble. Marble because of the marbled colors of her fur and then Miss Marble to play on the nearness to the sound of Miss Marple, Agatha Christie's cozy mystery sleuth. After all Miss Marble was going to play a part in my cozy mystery. The cat makes an appearance in the first chapter as a reason my young character, Maggie, has for coming to the Victorian house that turns out to be a setting for murder. The last lines of the first chapter mention the cat who at times seems a little mysterious herself.
When Maggie turned away from the house and looked around, she didn't see anybody. Not even Miss Marble. She ran across the yard and ducked through the opening in the shrubs. She didn't think about whether anybody saw her.
And so I lay the beginning of the mystery and Maggie's part in it. Miss Marble has plenty of parts too. She is an independent cat who does what she wants, but then isn't that how cats are?

Remember, I'm giving away a copy of one of my first two Hidden Springs mysteries, starring other cats, to three winners in the next few weeks. I'll draw for the first winner on Sunday and then pick two more winners on the next two Sundays after that. All you have to do to enter is be at least 18 years old and leave a comment here on my blog posts. Each new comment on a new post gets you another entry. I appreciate all the great comments on the last post saying which book cover you liked best or whether you had either lived in a small town.
This time, how about telling me if you ever let a cat share your house or life? Was it a calico?
As always, thanks for reading.
Save
Save