Have you been to my little town of Hidden Springs where Deputy Sheriff Michael Keane tries to keep the peace? It's a sleepy little town that might remind you of other small towns you've known. The kind of place where everybody knows everybody and people sit around on front porches and share stories. Sometimes about themselves or their families and sometimes about you or yours!
Maybe you've had one of those kind of conversations. You know where somebody brings up a name, say Ann Gabhart. And then the other person can't quite remember exactly who that is. First person might say, "Well, she's about your age. You probably went to school with her." The second person says, "I can't place her. Who were her parents?" Pretty soon the whole life story of Ann will be in the air between them, or at least as much as they know. With me, they'd probably say, "You know, she's the one who writes the books." I get asked that a lot here in my hometown. "Are you the one who writes the books?" Trouble is, my two sisters get to field that question sometimes too. People know one of us is the one who writes the books.
You get the idea. In a small town, people know you. They know where you lived when you were a kid and can probably name all your siblings. They know if you're married and how many kids you have. And heaven forbid, if you ever did anything not so good, that will definitely stick in the small town memory. Good things do too. Like being the quarterback for that football team years ago that actually won a district championship or getting a University of Kentucky basketball scholarship. Being mayor or some other elected job is definitely something that will keep you in the small town memory. But mostly it's just common everyday things. Where you went to school. Your job. Maybe that house you built with different looking windows. All those bits and pieces of our lives weave together to make up the special atmosphere of a small town.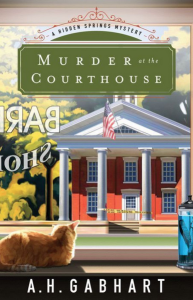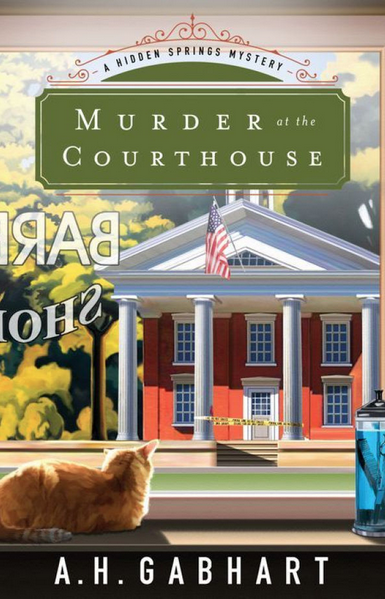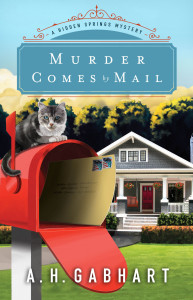 I tried to capture that in my Hidden Springs mysteries, Murder at the Courthouse, Murder Comes by Mail, and now coming in March, Murder Is No Accident.  The cover of the new Hidden Springs mystery has been up online for a while now and the book is available for pre-order at Amazon, Barnes & Noble, Christianbook.com, Kobo, or other online sellers. A few people have even ordered a copy or two. But I haven't introduced the book here on One Writer's Journal.
So tonight is my official cover reveal for the New Year. What do you think? Each of my Hidden Springs mystery covers have featured a cat. A different cat each time. Two Bits looking out the barbershop window in Murder at the Courthouse. Grimalkin with those beautiful blue eyes in Murder Comes by Mail. Now Miss Marble, the calico, makes her debut in Murder Is No Accident.
So to celebrate this new cover and just in case some of you haven't had a chance to visit Hidden Springs yet or know a friend who might like a small town mystery, I'm giving away a few copies of the first two Hidden Springs books. I'll pick a winner each week until the end of January. All you have to do is leave a comment here on this post or on Wednesday's post to have your name tossed in my drawing hat for either a copy of Murder at the Courthouse or Murder Comes by Mail. You do have to be 18 to enter. I'll draw the first winner next Sunday and then two more winners on January 22nd and 29th. Each comment on a new post gets you a new entry in the drawing and if you don't win the first Sunday, your name stays in the drawing hat until I draw the last winner on the 29th. Open internationally wherever such giveaways are not prohibited. If you've already read my Hidden Springs stories, you can still enter and perhaps win a book for a friend.
For fun this week, you can tell me which Hidden Springs cover you like best or if you've ever lived in a small town.
As always, thanks for reading. I might share a little about the new mystery Wednesday.