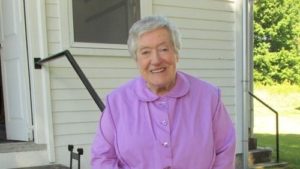 One of the questions I am asked when I give a talk about writing stories set in my fictional Shaker village of Harmony Hill is whether there are any Shakers today. When I would say three, somebody in the group would usually speak up to say no wonder since they were celibate. While that does cut out the chance of raising children in the Shaker way, it certainly wasn't the only reason for the decline of the Shakers until only those few remained in Sabbathday Lake, Maine. Two Shaker sisters. One Shaker brother. In fact Sabbathday Lake is the only village that has stayed an active Shaker village. Part of the reason they have is, of course, the remaining Shakers, but then also, they have a very active Friends Group who help keep the village going. But now one of those three remaining Shakers has passed away at the age of 89 after a brief struggle with cancer. The news reports say that Frances Carr passed over easy with loved ones around her. You can read more about Sister Frances here.
I knew there were still Shakers at Sabbathday Lake and often mention that when I'm giving a talk, but I had never gone online to search out any pictures of them. The picture above was with one of the news releases. Sister Frances looks just the way you would imagine a loving Shaker sister to look. The pieces I read about her said that she was brought to the Shaker village when she was ten after her father died and her mother was no longer able to care for her. At the time, the village must have been still accepting children. That is no longer the case. It is said Sister Frances did not like hearing people say that she and the two others might be the last Shakers. She thought more converts might come into the village. Some have but haven't stayed the course the way she did for seventy-nine years. The information about her says that she devoted much of her time and energy helping the disadvantaged, especially children in need.
Sister Frances also wrote a Shaker cookbook, titled Shaker Your Plate: of Shaker Cooks and Cooking. Sounds like something that would have been a perfect research book for me. I often used the expression to Shaker Your Plate in my Shaker stories since this meant to eat all you took out on your plate. You can see more about Sister Frances and a different picture in this article in the Portland Press Herald.
One of the things I have come across in my Shaker research is how their leader, Mother Ann predicted the number of Shakers would decrease until you could count that number on one hand, but then the Shakers would make a return. Not sure that is going to happen in this modern day and time, but it does appear that for Sister Frances Carr the Shaker way was the right way for her.
As always, thanks for reading. And if you'd like to know more about the Sabbathday Lake Shaker Village in Maine, you can check out their website