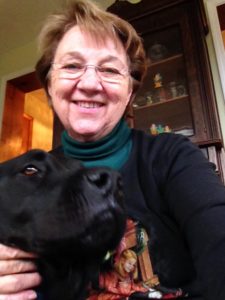 Oscar and I say Merry Christmas as I share one last reader Christmas story before we head into the New Year. I've shared Sandi's stories on here in the past. She's has a way with words that makes her memories come to life. She says her granddaughter has quite suddenly grown up and at sixteen has started her first paying job at fast food restaurant. That made Sandi remember her first job and a Christmas memory. Here's Sandi's story.
I thought back to my first real job "in the big city." I had graduated from high school in May and as my other siblings did, I had to leave the area to work. I'd had a job in a drugstore, but my parents and I knew it was a rather dead end position and I wanted to save money for college. My dear sister took us all in (two brothers and myself) and allowed us to live with her. She was saving money for a house so the little bit we paid in rent went into her fund. We occupied a town house in Silver Spring, Maryland and at times, we had so many different relatives living with us (until they got a start) that one of the neighbors told me they had a pool going on as to how many people lived there. 
There was a huge department store called Hecht Company in Silver Spring and I applied for a position there. I was hired to work in the toy department in late fall and it was fun since the Christmas season was soon upon us. I looked with great anticipation to my first real paycheck and the Christmas presents I could buy for my sister's four children with whom I lived. Payday finally came and it was given to me in cash. It amounted to close to $100.00 and I felt incredibly rich. I didn't have a pocket in my dress, so I made sure no one was looking and I took the money and tucked it into a pocket inside my coat, which was hanging in the employee lounge.
Later that day I went to check on it…I was so proud of it…and it was gone. I was totally caught off guard. I had come from a small town where we never locked a door and no one was a stranger…and within a couple of weeks of my arrival in the big city, my trust had been violated. I started to cry and another employee after shaking her head at my naivete went to find a security guard. By that time I was mad and threatening "whomever" with sudden death and a knock to the head with a few wails in between.
The security guard was precious and took me up to the cafeteria to talk and try to find out what happened. We sat and drank a coke and he explained that I "wasn't in Kansas anymore" and that I couldn't trust anyone…not even really him. (Now, that was a terrifying thought.)
We went back downstairs so I could finish my shift and as we entered the area, an employee came over and handed me an envelope. There were several bills inside. She and the others had taken up a collection that almost matched what I had lost. 
I was so thankful, but I was also still greatly saddened by what had happened. That was fifty years ago (or more) and I remember it as though it had happened yesterday. I wonder about the person who stole the money–if they were that hard up or just plain greedy. However, God is good…all the time…and I learned a valuable lesson–not just about money, but about the need to forgive.
Sometimes we do get some hard lessons, but I was impressed just as much with the kindness of Sandi's fellow workers who gave out of their own pay to help her out. Have you ever had your trust in your fellowman shaken only to see it restored by the goodness of others?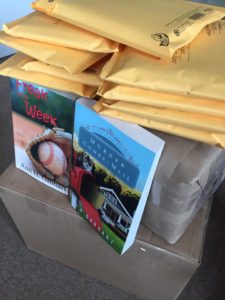 I sent off all those packages to the winners of my Christmas giveaway. Let me assure you that the next prize I pick is going to be something easy to mail. It took me a while to wrap up those Christmas trains and books, but I got it done and the packages added to the glut at the post office yesterday. Susan picked Words Spoken True for her prize with the train and Rachel picked Small Town Girl. Then I packaged up eleven of my kids' book, Freak of the Week to send to winners. Just had to add in that extra one. Nobody from my home state of Kentucky won, but Clay's story is traveling to Virginia, Montana, Michigan, New York, Oklahoma, Ohio, Missouri, Maryland and California. Isn't the internet great the way it lets us connect with the click of a few keys on a keyboard all the way across the country and even the world?
Wishing you the best Christmas ever as you celebrate the Reason for the season. I'll post my little Christmas story again on Sunday. As always, thanks for reading.
Christmas is joy, religious joy, an inner joy of light and peace. (Pope Francis)
Save