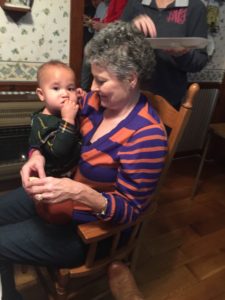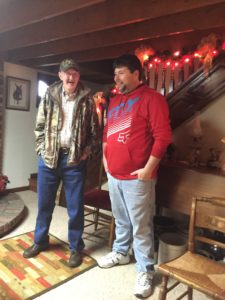 Sometimes Christmas celebrations with family can be bittersweet times when you miss the ones you love who are no longer here but are celebrating with Jesus in heaven. It was that way for my family this year as we lost two of our family unexpectedly last year. Both were in the prime of life and we never expected that last year when we were having a good time talking and laughing with them at Christmas that we wouldn't get to do the same thing again this year.
Life can throw us some unexpected curves at times. And while these two and any of those loved ones no longer with us are missed at all times, at Christmas the loss can feel extra raw. Christmas is a time for families, a time of memories as many of your stories that you've shared with me show. Some of the memories bring smiles, but some bring some tears as well. But it's good to remember.
I was a little surprised to hear from a few readers who sent memories of last Christmases with loved ones as most memorable. Here's what Donna says.
Our Christmases have always been happy ones, but one of the most memorable ones was last Christmas. It may seem strange to some, but it was our first Christmas without my youngest brother who had passed away in March. He had been sick much of his 50 years and to know that he was spending Christmas in Heaven with Jesus with no more pain or suffering helped us so much. There were our sad moments, but then we could almost sense him telling us to not weep for him that he had received the greatest gift of all and was waiting for the days we joined him.
Then Margie shared this story about a last Christmas with her son.
At my age, I have made many Christmas memories….one that stands out is the last Christmas we spent with our son. In September, he had been sent home from the hospital for the last time and we knew he didn't have long and so did he. About a week before Christmas, he was feeling sad because he had not been able to go out and Christmas shop the way he always loved to and he didn't have gifts for anybody. I remembered a tee shirt we had purchased for his brother/helper that was stashed in his closet and I pulled it out and showed it to him. The look of pure joy on his face is one that is forever etched in my memory. Who knew that something as simple as a tee shirt could bring such happiness?? He could hardly wait to give it to his brother…he was so excited that he had something to give. I was quick to assure him that his presence with us was the greatest gift that any of us could receive that Christmas….He made it 10 days into the New Year before he went home to Jesus. I miss the sound of his voice, his laughter, his radiant smile, and his hands….I held those beautiful hands for almost 26 years. This is a most special and precious Christmas memory for me….
Thank you so much for your story of love, Margie. As you say, precious memories. Most of us do have some of those precious memories of people we miss at Christmastime. So it's good to take time to remember and to treasure those memories of past Christmases and to know that in some way we can't understand our loved ones are ever with us in our hearts.
I did pick the winners of my Christmas Giveaway contest and have sent e-mails to Susan F and Rachel L who won the Christmas decoration train and one of my books and also to the ten winners of my kids' book, Freak of the Week. They were: Margaret N, Carol G, Melissa A, Marilyn, Sparkles, Edward A, Robin C, Paula S, Marion, Becky J, Linda L. I know that's eleven, but I added on for good measure. 🙂 Thank you all so much for joining in with my Christmas fun and especially for sharing your memories with me. I am blessed by your stories and your friendship.
Thank you for reading and have a very Merry and joyful Christmas.
Save
Save
Save
Save