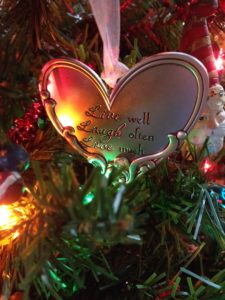 This little heart that hangs on my Christmas tree says "Live well. Laugh often. Love much." Great advice at any time but maybe especially at Christmas when we gather with family and share so many memories of Christmases together. I've got a couple more memorable Christmas stories to share with you this week. The first from Erin is about a first Christmas for her brother. Here's her story.
The Christmas that most sticks in my head is the Christmas I was 5 years old. Two nights before Christmas, my mom went into labor. My baby brother (who now towers over me a solid foot taller) was born at some stupid hour of the morning (2 or 3 am, I believe) on Christmas Eve. My dad let my older sister and I open some of our gifts before mom got home from the hospital (silly man let my sister open up her Easy Bake Oven cake mixes), but we had to save the big gifts for when she got there. My poor mother – haggard from a hospital stay, sore, and trying to juggle a newborn, was whisked to the middle of the room as soon as she walked in the door so that we could open our "big" gifts. My sister got an Easy Bake Oven (surprise, surprise) and I got a Mickey Mouse Talking Phone. I loved that phone more than anything else – probably because I had to wait an extra day or two to get it! I think after the excitement of presents, we finally noticed the baby. My poor brother still goes unnoticed on his birthday to this day. Fortunately, he doesn't much care about birthdays anymore. 
Do any of you have a Christmas birthday? Sometimes that makes it had to have a special birthday time, but sounds as if Erin's brother learned to deal with Christmas overshadowing his birthday.
Janet's story is different. It's about a last Christmas with a loved one instead of a first. Our family has lost two beloved family members since last Christmas. When I look back through my 2015 Christmas pictures, there they both are smiling and laughing and loving life. None of us expected either of them not to be here still enjoying family time with us on this Christmas. So we should make good memories to hold in our hearts the way Janet does the memories of her last Christmas with her mother. Here's her story.
One of my favorite Christmas memories is the Christmas of 1991. My first husband had passed away in 1989. I had sold my home & moved to an apartment. Christmas Eve I decided to spend the night at my mother's as she was also alone. We watched Christmas movies, drank a pot of her delicious coffee & ate her homemade tea cakes. We also sat at the table a while reminiscing about Christmases past, remembering the ones who had slipped away & smiling as we remembered the good times we had known with family & friends. The next morning when I awoke there was a stocking on the mantel for me with all kinds of special things in it. I was so excited – just like a kid – and she was happy with my reaction. Later, other family members arrived for Christmas dinner but I was so glad I had had that precious time with my mother. Sadly, she passed away in 1992 – about two weeks before Christmas. I'm so thankful that God allowed us to have that last, wonderful Christmas together & I will cherish that time with her always!
Precious memories! Thank you both, Erin and Janet, for sharing your Christmas memories. And thank the rest of you for reading.
If you haven't entered my Christmas Giveaway, you still have time. Deadline is next Saturday (12/17/2016) at midnight EST. No big prizes but you might think they're fun. Check it all out on my website News & Events Page. You can enter by sending me an e-mail message or by leaving a comment here.