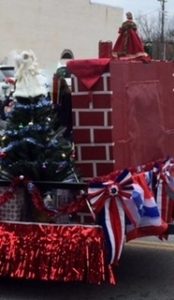 December 3, 1966
Jocie Brooke here reporting from Hollyhill. Wow! I can't believe it's been so long since I did a report. I guess it's true that when you get in high school, you get really, really busy. Too busy, Aunt Love says. But I still do all the chores she has for me at home. That's not as many now with Leigh helping out. Tabitha doesn't help much. She's busy too. Going to secretarial school. That's one of the things that has me so busy. I have to watch Stephen for her while she goes to night classes. And now here it is almost Christmas.
Aunt Love says people get entirely too wrapped up in Christmas these days. Well, not exactly in Christmas, but in the trappings of Christmas. She's always after Dad to preach about how Christmas is too commercial and how we need to remember that Christmas is all about Jesus coming to earth to save us. Dad tells her he preaches that all year long and he does. But Dad's okay with everybody having fun at Christmas too. He thinks that's how Jesus feels too. That He wants everybody to be happy and have a good time celebrating Christmas. After all, it is sort of His birthday party. One everybody in the world is invited to, Dad says and Jesus is the gift.
Me, I love Christmas. And Jesus. But all those trappings too. Christmas trees and lights on the eaves of everybody'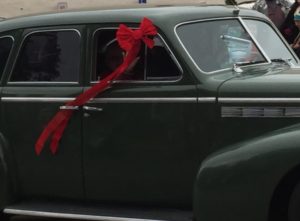 s houses and Christmas plays at church with the shepherds wearing bathrobes and trying to keep towels from falling off their heads. This year since I'm way too old to be in the play, I'm helping Miss Sally get it all organized. We've been practicing and we're making halos for the angels out of hangers and silvery garland. Miss Sally says I'll have to help the kids sing the carols. It's going to be the best Christmas play ever.
But the play isn't for a couple of weeks. First we have the parade. Who doesn't love a parade? Floats. Old cars. The high school band with the drummers keeping everybody in step. People riding horses with red ribbons on the bridles. Thank goodness the horses go last. It wouldn't be much fun marching after the horses. Horses don't worry about when they go, if you know what I mean. But I guess that isn't a problem for Santa riding in the fire truck at the end of the parade. They blow the siren until your ears hurt but at the same time you sort of feel like dancing too. Just because it's Christmas.
Of course, I don't have time to dance. I've got to take pictures for the newspaper. Everybody expects to see lots of pictures in next week's issue of the Hollyhill Banner, and I think I got some great shots. Little kids holding candy canes. A grandma in a rocking chair on one of the floats. The Homecoming queen riding in a Corvette. The football team on a wagon. I hope I got a shot where they weren't acting too silly. Santa waving. And more kids. Kids are always the best. Dad says the more kid pictures we have, the more papers we sell.
Hope you got to go to a Christmas parade and maybe you'll see your picture in the paper.
Save