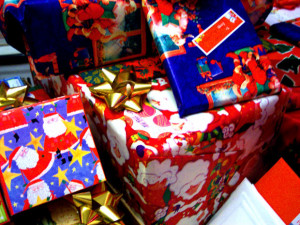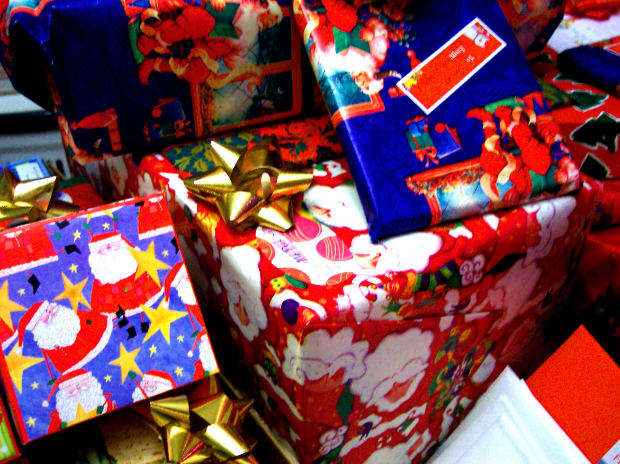 The best of all gifts around any Christmas tree is the presence of a happy family all wrapped up in each other. (Burton Hills)
That's what many of the people who are sending me Christmas stories with their entries into my Christmas Giveaay are saying. Family and friends – that's the best thing about Christmas. But sometimes gifts come into the picture and demonstrate that family love. So here are a couple of reader stories about gifts and family love.
First let's hear from Tiffany about the Christmas she remembers best.
The Christmas I guess I remember most is my first Christmas as a mom. I married at the young age of 17 and had my first of 5 children at age 18. My first Christmas as a mom, I was a stay-at-home mom and things were, of course, a little tight financially as a still newly married family and now with the expenses that come with children. My little girl was 9 months old on her first Christmas and while she didn't understand Christmas yet, I still wanted to be able to buy her several things to unwrap so "we" as parents would get to enjoy the memory of her first Christmas for years to come. I scraped and saved and we bought only for her that year as that was really all we could afford at the time. The look of surprise and excitement on her face when she saw the presents and opened them on Christmas morning was worth it all to me! It was then that I realized why my mom went many years when I was a kid without a gift for herself on Christmas just so we could have. I never understood looking on as a child, but as a mom I finally understood.
Love your story, Tiffany. It's easy to tell you were a loving mom the same as your own mom. We do see things differently when we have our own children to love and you know what? I'm guessing your mom loved watching you be a mom like her.
Now on to a different type story. This one is from Donna about a special gift received and how that can make us feel especially loved too. She even sent me a picture, so here goes: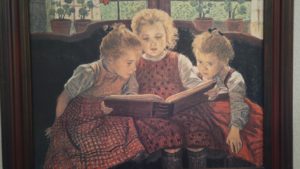 One of my favorite Christmas memories was when I'd been married about 20 years (it is now 50 yrs.).  A few days before Christmas,  my husband asked what I wanted for Christmas, and I mentioned a picture I had seen in a gift shop. The gift shop was in a town about an hour away. It was a picture of 3 girls sitting on a sofa, reading a story book. (We have 3 daughters, so it was meaningful to me.)
I never thought he would go all the way up there to get it. He is a very practical man, and not knowing how the winter roads would be, an hour's drive on windy roads, not even knowing which gift shop, or if it would be open, or if they would still have the picture…I was pretty sure he would nix that idea. Plus the price was a bit high.
He left to go and get a haircut. It seemed he was gone quite awhile, but I was busy, and figured he had other things to do as well. When he got home, he did have a new haircut, and that was that.
Christmas eve we opened our gifts, and after all the gifts were opened, he went out to the garage and brought in a huge box. I still had no idea, and lo and behold, inside was the picture of the 3 girls. Obviously I cried. Such an act of love he did for me. I will treasure it always.
And that is why so many of try so hard to get something good for those we love, because a gift can be a demonstration of that love.
Thank you for reading. Your friendship is a gift to me.
You can still enter my Christmas giveaway. Information is on my News & Events Page. Details about prizes are there. Or you can just leave a comment here about wanting to enter the Christmas giveaway. Deadline to enter is midnight EST December 17, 2016. I'm also giving away ten copies of my new kids' book Freak of the Week so let me know if you want to be in the drawing to win one of those books.