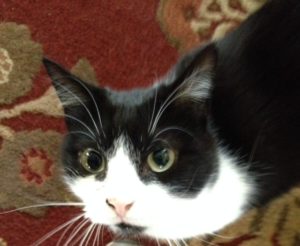 Cat stories and the internet seem to go together like shoes and feet. Or water and ducks. Or, well you get the idea. But what about Christmas and cats? I'm not sure about that, but I wouldn't be surprised if a cat was slinking about the shadows in that Bethlehem stable
I'm having another giveaway. You can check it out on my News & Events Page to find out about the prizes and more. For fun, as I often do, I suggested you share stories with your entries. This time I asked you to tell me about a memorable Christmas. I do so appreciate you sharing your stories with me. Some make me smile. Some bring a tear. But I enjoy reading them all and finding about about your special Christmas times.
So here are three Christmas stories readers have shared with me that star cats. You know, I haven't gotten a single Christmas story yet about dogs. Hmm, Oscar and I are surprised about that. 🙂 I'm still reading through the e-mails, so if you sent me a story (maybe about a dog) and I haven't responded, give me a few more days to get back to you. I will. Anyway, tonight the cats rule. So here goes.
First here's Penney's story. Cats and Christmas trees don't mix!
The one I remember would be way back when I was 6. I wanted a baby doll and when I got up at 4 AM on Christmas day I found the doll under the tree plus a highchair and bed and stroller for the baby doll. It was a great surprise. My Mom kept saying let's go back to bed. Then 2 of our cats decided no beds. They ran up the Christmas tree and my Mom had a fit! LOL! It took my Mom and older sister to get the 2 cats out of the tree. That was in 1962. Mom had those little glass bulbs on the tree that broke very easy.
Christmas the Kitten – Melissa tells us about a most wanted present.
I remember  one  Christmas all I wanted  was a kitten and on Christmas morning I woke up to a baby kitten meowing and licking my face. I jumped outta bed and screamed all through  the house waking everyone and was surprised that Santa even got me toys even though I said I didn't want any. I just wanted a kitten. I named her Christmas. After I opened my gifts I remember sitting down to breakfast and we each told what our favorite gift was and being thankful for things we got and the things we had.
And last Nancy's story – Fluffy Saves the Day
I believe every Christmas holds something special because it is the birth of our Savior. But one that comes to mind and makes me smile is when I was around 5 or 6 years old  (I am now 77). I was the first to come downstairs and opened my gift. It was a Sparkle Plenty doll. For those who are too young to remember the Dick Tracy comics, she was his baby daughter. I noted that her hair was washable so being very careful, I went to the kitchen and filled a small pan with water and placed it on the floor register so it wouldn't drip on the carpet.  Began to wash her hair when my Dad came into the room and he was not happy with me in the least. But, as he was scolding me, my cat, Fluffy, came running down the stairs and into the living room and up the Christmas tree. Down came the tree and my Dad immediately forgot about the scolding he was giving me and concentrated on putting the tree back together. I loved that little cat and just knew in my child's heart that she interceded for me. I had that Sparkle Plenty doll and Fluffy for several years. Fluffy passed away but I always wonder what happened to my doll. At least I have great memories.
Thanks for sharing your stories, Penney, Melissa and Nancy. It's great fun to walk down Christmas memory lanes with you all and I look forward to reading more of your stories and sharing them in the days ahead. But if you want to share a story for my eyes only, that's great too. Just let me know that.
As always thanks for reading, and I hope you had a blessed and happy Thanksgiving weekend.
Save