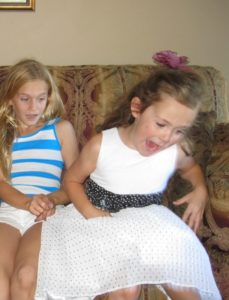 Here's a new photo just waiting for your clever caption or sensible caption or funny caption. By leaving a comment you can get an entry into my November giveaway. You'll have four chances to throw your name in my drawing hat with four different photos to come up with a fitting caption. Or be crazy or silly. Just don't be mean. You know that might be good advice for living. The not mean part, anyway.
Many of you came up with neat captions for Sunday's picture. Loretta's advice about eating  broccoli to keep from turning white was cute. Several of you were spot on with realistic "I want mommy" captions. I especially liked Kathleen's where she has the kid saying his mother doesn't let him "play in the flour." I liked Lucy's where she has the little boy asking if his nanny is going to shave because he thought only papaw did that. Connie Lee has him crying for help since a "ghost" has him.
So I said I'd come up with a caption this week. Let's see. How about "I thought they said they would have candy here." You can tell I have a sweet tooth. I do have plenty of leftover candy because no kids came trick or treating to my door and one of my grandkids was sick with the flu so I couldn't go dump my candy in their treat bags. Did you have trick or treaters? Did you eat any of the candy yourself? I mean, nobody ever said only kids get treats.
I knew you would all come up with imaginative captions for Sunday's photo. And now you can see what these girls are thinking or saying. A good picture for the Halloween season. Something is definitely going on. Leave your caption suggestion in a comment and get an entry in the drawing to win a couple of books, one of mine (winner's choice) and a grab bag book. I'll pick the three winners on Sunday, November 13, 2016. You must be 18 to enter.
Thanks for reading and for playing my caption giveaway game. Now I think I'll go find one of those leftover treats.
Save
Save
Save