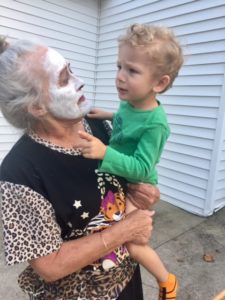 How about a new caption contest? I haven't given any books away for a little while. So let's have a little fun. We did this caption contest a few months ago and it was fun. That was because you all are so imaginative and witty. You came up with fun or wise words to put in the mouths of the people in my pictures or about the pictures. So here goes.
We had a fall party at our little church for the kids last week. Ever since I started going to this little church way many years ago, the church has always had a party in the fall for the kids – both the big and little ones. I say that because once a long time ago, an adult showed up dressed like a hobo complete with mask and stuffed shirt and pants. The person wouldn't say anything to anyone to give away who it was. When it came time to shed the costumes, the one that fooled us all was an older lady. She was a teacher and the last person I expected to show up all dressed up. That was such fun. Another time a couple of teenagers who were dating at the time showed up in stuffed orange trash bags as pumpkins. I thought that was clever but they did have problems sitting down.
Me, I never figure out any costumes to wear. Once I went as a stop light. All black clothes with construction circles pinned on in red, yellow and green. Nobody else was that impressed. LOL. After that I just go as my favorite basketball team's fan. Simpler. Of course, nobody realizes I'm dressing any differently than every day because I'm always wearing University of Kentucky blue. But I take a pot of chili so my church family gives me a pass even if I am "out of costume."
So here we have one of our church members in costume holding one of our church kids. So what do you think she's saying or the kid is thinking? Leave a comment with your caption and I'll throw your name in my drawing pumpkin. I'll post a new picture on Wednesday night to give your imagination a little more work. We'll play the contest game with four pictures over the next couple of weeks and announce the winners on November 13th. Three winners will get their choice of one of my books and a grab bag book too. Each time you leave a caption on a new picture, you'll get another entry. You have to be 18 to enter and the contest is open to all over that age.
And while the contest didn't start until today, Betty jumped the gun last Wednesday and came up with such a fun caption for my picture of the cover of The Gifted, that I gave her an early entry. She suggested "Jessamine's Jams" and that fit the story well since Jessamine was always getting in jams with her Shaker sisters. Tonight The Gifted is still a free download, but the sale price may disappear before tomorrow. The same is true with the Heart of Hollyhill books, Scent of Lilacs (free download), and Orchard of Hope and Summer of Joy (reduced e-book prices.) So check it out soon if you're interested.
As always, thanks for reading. I hope you'll play my caption game. Maybe I need to think up some clever caption too. I'll let you know next post if I come up with anything.