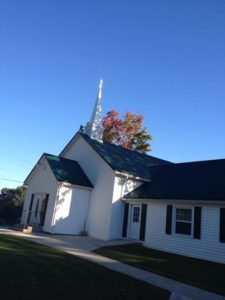 Homecoming means coming home to what is in your heart.
Our church, Goshen Baptist, had a homecoming yesterday. We celebrated the church's 204 years as a church. To put that a little in perspective, I looked back into history. Of course, 1812 was when the United States fought the War of 1812. It's also when Louisiana became the 18th state. Kentucky had been a state for 20 years and Isaac Shelby, Kentucky's first governor, was elected governor again after years out of office. Kentucky, Tennessee and Ohio were the western frontier. James Madison was president, the country's fourth president. All that to say, that was a long time ago in the history of our country and that many years makes for the opportunity for many people to have entered our church doors to worship.
A people without history is like the wind on the buffalo grass. ~Lakota Sioux Proverb
The church originally met in members' homes before a log structure was built for a meeting house. The present sanctuary, pictured here, was built in 1889. That would be the main structure without the addition of the Sunday school rooms on the side that were added in the 1940's. The front entrance way was probably added later too since at the beginning there were two doors, one for the women and children and one for the men. That building was dedicated on Sept. 29, 1889 by Bro. B.F. Hungerford, who made this entry in his diary.
  "Took an early start for Old Goshen church 7 miles from Lawrenceburg to preach the dedicatory sermon of their new house of worship. Br. Burford is a slow driver. Road hilly and rocky. Was two and one half hours going 7 miles. Was worried at the pace but couldn't complain. Reached there at 10 1/2 a.m. House full of women and babies. Woods full of men and horses. After some choir singing, preached the sermon. Text Psalm 127:1 and Ex. 19:4,5,6. An old time basket dinner."
And so, we continue the tradition of the "old time basket dinners" at Goshen. We had one yesterday with our families cooking multiple dishes and packing them up to bring to share. We no longer have to pull farm wagons up into the yard to set out the food. We no longer have to worry about the weather raining on our picnic since a few years ago we built a fellowship hall where we get to enjoy our church dinners under roof in the comfort of air conditioning. We named the building after our current pastor, Rev. Fred Knickerbocker, who has been our pastor now for well over thirty years. He was a teacher whose students called him Mr. K. So now we call our fellowship hall K-Hall. He likes that.
When we were building it several years ago, it wasn't finished on Homecoming Day. No air conditioning. We decided to go ahead and use the building for our dinner anyway. Naturally that was an unusually hot first Sunday in October. 90 degrees. But we had windows. Then our deacons decided to work on the yard and somebody gave them used straw from a horse barn. Great for the yard. Not so good for the appetite as that odor swept in the windows. But we all held our noses, laughed it off and enjoyed the great food.
So many great Homecoming memories. Does your church have homecomings? What are some of your memories?
To look backward for a while is to refresh the eye, to restore it, and to render it the more fit for its prime function of looking forward. ~Margaret Fairless Barber
Save
Save
Save