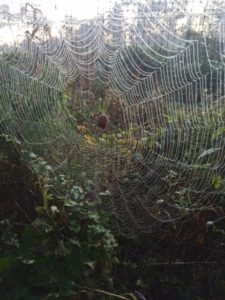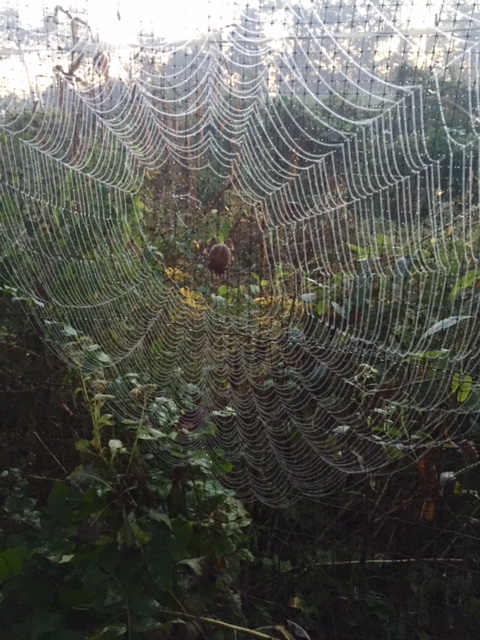 We live in a web of ideas, a fabric of our own making. ~Joseph Chilton Pearce
I'm editing my latest story right now. While I was writing this story that won't be published until next September 2017, I sometimes felt as though I was having to dredge up every word. I wasn't sure any word I was finding was a right word. I struggled to find "the end." I was, at times, certain the story was unreadable, that I hadn't spun a good story web.
Then, after I did find those necessary "the end" words and read the story over, I was pleased to see that I had spun a story. I was still on pins and needles until my editor read it and loved the story. That's when a writer can really breathe easier – when someone else agrees that you did spin a proper story web. That you somehow managed to connect all the strands in the right ways so that the story holds together in a strong enough way to perhaps eventually catch a few readers in your silken story threads and wrap them up in your story.
But now as I edit to make the improvements my editor suggested, I can't forget about that story web. Each change I make, each bit of web I break (delete) or newly spin (rewrite), can affect every other part of the story. So I have to let the characters come back to life in my head. I have to keep in mind the connections, the story threads. Each word, each sentence, each paragraph, each page, each chapter – all strands in the story web that can't be broken if I'm going to fully capture my readers' imaginations.
The next time you see a spider web, please, pause and look a little closer. You'll be seeing one of the most high-performance materials known to man. ~Cheryl Hayashi
That's true. Spiderwebs are amazing. But then so are stories. So are our imaginations, whether we're writing or reading.
Talking, talking. Spinning a web of words, pale walls of dreams, between myself and all I see. ~John Gardner
But the words aren't only spun between the writer and all that he or she sees as John Gardner says here, but between the writer and the reader. Thank you for being one of those readers.
Have you ever thought of a story as being like a web?
Save
Save