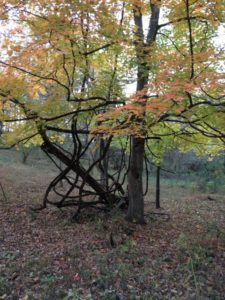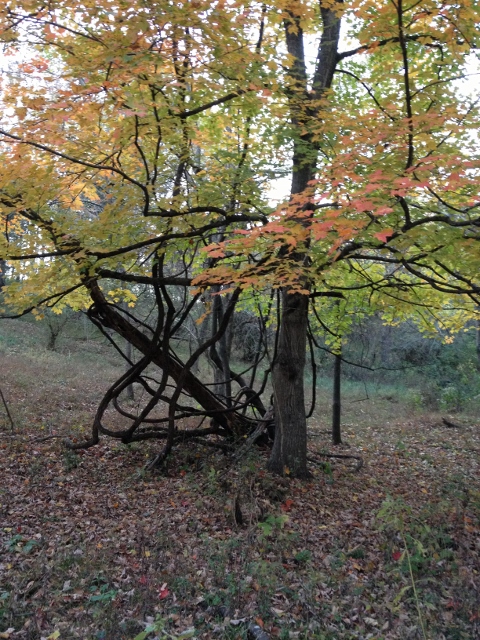 September 25, 1966
Jocie Brooke here reporting from Hollyhill. Well, actually from Holly County. It's Sunday and I'm spending the day out on Miss Sally's farm. It's great out here on the farm. Quiet. Nobody fussing about anything. Miss Sally said she needed to take a nap and I'd have to entertain myself. I think she just said that because she knew I wanted to take a walk. Miss Sally sometimes walks with me, but her hay fever is working on her so she said she'd best stay away from the ragweed out in the fields until frost came. I'm really glad I don't have allergies to stuff that grows out in the field. But if I did, I think I'd just sneeze and blow my nose and go on out there to see what I could find. Miss Sally laughed when I told her that and said she used to be that way, but now she'd pretty much already seen it all at her age. So she could just stay at the house and let me go exploring.
And look what I found. A country girl's jungle gym. Don't you just love grapevines? You can swing on them and jump on them and climb on them. Somebody told me once that you couldn't break a grapevine. That's just not true. Believe me, I know. I was swinging on one once like I was Tarzan or somebody and the grapevine came down and me with it. After that, I tested the grapevines before I started doing Tarzan impersonations.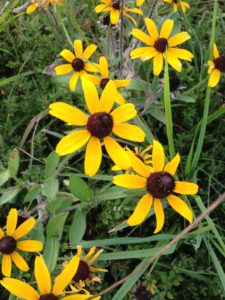 A person can find all sorts of great things out in the fields this time of the year. Black-eyed Susans. Jewelweed. Butterflies. Walnuts. Squirrels. Woolly worms. Miss Sally says you can tell what kind of winter it's going to be by the woolly worms. If they are brown, that means a mild winter. If they are black, watch out for a cold and snowy winter. I asked her if that really worked and she laughed and said she didn't know. She never kept count of how many of what color woolly worms she saw. She said it was best just to leave the weather up to the good Lord. That he'd been doing it a long time and wasn't no use her trying to turn forecasting over to the woolly worms. But she did see an all black one the other day.
Miss Sally says fall is her favorite season. I might say the same except for that pesky part of school starting up. I guess I should like school. I guess I almost do like school, but sometimes the weeks just last too long. Maybe if we went every other day. The teachers would like that. We have a new history teacher. Mr. Clark. Oh my! He's a dream with brown wavy hair and gorgeous blue eyes. A lot of the girls in school have a crush on him, but that's just silly. He's a teacher. But I have to admit that history is a lot more interesting this year!
But today isn't a day for thinking about history. It's a day for enjoying the sunshine and the late summer flowers and to try to chase a butterfly down. But now I guess I'd better go back to Miss Sally's house. Dad will be back from visiting the sick church people and we'll have to load up and go back to church. I asked Dad if he ever gets tired of preaching. I mean twice on Sunday and Bible study on Wednesday. That's a lot, but Dad says there's more in the Bible that he can ever preach. That a man could preach a hundred sermons just on the third chapter of John. I was smart and didn't tell him I thought I'd already heard all hundred. But I don't really mind hearing Dad preach. I'm proud of Dad and glad the Lord gives him messages. Sometimes I even really listen. When I'm not too tired from swinging on those grapevines.