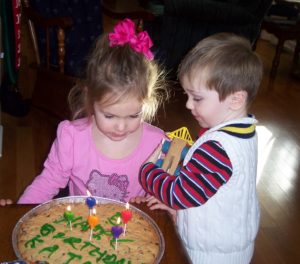 My Birthday Giveaway is over, but I get to post one more cute birthday cake picture. 🙂 Thanks so much to all of you who entered and extra thanks to those of you who shared about great birthdays you've had or just the ordinary birthday treats that made your day special. Birthdays are the perfect time to be extra good to ourselves and to thank the Lord for the gift of a new year of life.
I've certainly been blessed with many good birthdays and with a loving family. I do agree with Pam who wrote: I agree with you and your pastor, I love growing older and watching the wonderful Blessings God has given us grow up. Grandchildren are the Best!! I am looking forward to my Birthday this year. …my husband and I will be renewing our wedding vows. 35 1/2 years. We are Blessed!
Hope you have a wonderful birthday as you renew your wedding vows, Pam.
But sometimes birthdays are hard to face when something not so happy has happened in your life. Barbee wrote about one of those type of birthdays when she turned thirty, but the good part of the story is how things turned out for her. Here's what Barbee wrote.
I can't think of one specific thing I've done just because its my birthday, but the things that come to mind are…going out to dinner, cheating on a diet, being lazy :0. On my 30th birthday, I cried the whole day! But, that night, I came home to 30 roses in various colors. My husband and I had finally decided after 7 years of marriage that we were ready to have children. And, a couple of days before my birthday, I knew I wasn't pregnant and feared we would not be able to have children. I was in a great job with great benefits, but I was very unhappy in it. Turning 30 was hard for me! I was pregnant a few short months later. And, the Lord opened up a great part-time job for me to move into after our son was born. In a few short months, I will be 40 and I know it will be easier than turning 30 was!
Sometimes we don't see the whole picture, but it's good to know that the Lord does. Then again sometimes it takes a friend to help us count our blessings. That's what Pat does for her friends. She's a friend we'd all like to have.
Pat says, One thing I have done for friends on their birthdays is to write either a special poem for them or a story about shared memories. When having a party for others, I ask friends to write a special memory and then put them together in some type of booklet. Hopefully it serves as a permanent reminder of special memories and this special birthday!
It was so good reading all your birthday stories and the one thing that came through loud and clear was that the very best thing about birthdays is getting to celebrate them with those you love.
And Now the Winners–
I've already sent the winners an e-mail.
Debbie H. is my first place winner. She wins the wind chimes and her choice of one of my books.  Elizabeth D is my second place winner. She wins the Willow Tree figurine and her choice of one of my books. Gary B of Florida is my third place winner. I've already heard back from him and he chooses my book, Murder Comes by Mail and he also wins that grab bag book, The Quieting by Suzanne Woods Fisher. Then I picked a "just because" winner. That's Paula S from MO because she's been having trouble connecting here on my blog for some reason . For her trouble, I let her choose a book and she picked Angel Sister because she's says it's one of her very favorite books. That was nice to hear.
Save
Save