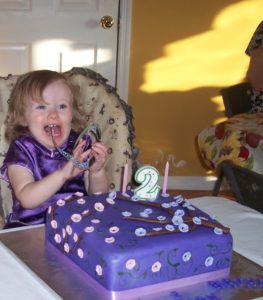 Are you this happy about birthdays? Well, maybe you would be if you got a purple cake to match your purple dress. 🙂 But most of us grow up to find our own ways of having fun on our birthdays. Thanks to those of you who shared your happy birthday fun when you entered my annual Birthday Giveaway. Still a few days to enter. I'll draw for the winners on Sunday September 18, 2016. Check out the prizes and more on my News & Events Page.
But now let's see if I can get some ideas on how to celebrate my birthday tomorrow. Sometimes we challenge ourselves but I confess I'm not ready to celebrate like Anna or Cathie. But I admire their birthday courage.
Anna – On my last birthday in March, I took the day off from work and went to the beach. Did a polar bear plunge on my own – felt really good and reminded me that life is so very good.
Cathie – One fun thing I did on my birthday was when I turned fifty, I decided to push away my extreme fear of falling, by climbing a rock wall. The going up was a piece of cake. Climbing this one, you got to the top, stepped onto a ledge, and had to step back off to make the climb down. That was the more challenging part for me, but, I did it!  lol  A perfect birthday would be, a morning walk; an hour of yoga; a visit with my kids and grandkids; a time to draw and time to read!
But I can agree with some of those things on Cathie's perfect birthday, but no rock climbing for me. My sisters and I always take time to celebrate birthdays with one another but we live close together. Shirley and her sister celebrate long distance but still have fun.
Shirley – This year I turned 82 years young/old (depends on how I feel that day). By the time the day came I had already opened every one of the gifts my sister had sent to me. We send little, mostly inexpensive gifts that would be appreciated only by us. One of her gifts to me (not so inexpensive) was a music box with the words "Forever my sister, Always my friend" and two butterflies on the top of it, and it plays "You Are My Sunshine", a song very special to us when we were little girls. Since we live about 1,200 miles apart our celebrations are via mail, phone, Facebook, email.
Elaine and her husband came up with a unique and fun way to celebrate some of those zero birthdays.
Elaine – For MY birthday, well, I shared it when I turned 40 and my husband turned 50. We hosted a 90th birthday dance for friends and family. They were told to dress extremely comfortably (most were in jeans or shorts, while I included slippers for my attire). We hired a DJ and rented the hall. Our families provided snacks on the tables and a midnight snack for everybody. Now THAT was fun! I hope we . can do it again for our 130th birthday in three years' time!
And then sometimes the simple things make birthdays fun.
Nancy – Once, I read a book while my hubby did the dishes. It sort of felt weird but fun anyway.
(Sounds like you should do that more often. :))
Lois – Just for fun I tried to climb a tree a couple of years ago, it was very laughable. A very fun birthday.
(Love your birthday spirit, Lois.)
Robin's simple pleasure made me smile and think I could go wild and do that for MY birthday!
Robin – Last year I had a banana split for lunch, just because it was my birthday!   I'm sure you're in shock reading about my walk on the wild side, but I had to share my boldness.  Birthdays rule!!
She's right. Birthdays do rule. And if you've having a birthday this year, and I'm guessing you are, then have some fun, get excited and enjoy the day.
Save