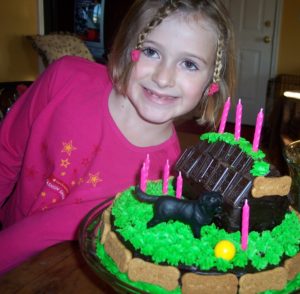 The birthday craze continues with my annual birthday giveaway. An extra plus is that I get to poke through my pictures to find some cute birthday cakes. My daughter-in-law is very inventive with the kids' cakes and when this granddaughter asked for a dog cake a few years ago, she created a cake with a doghouse, a dog, and dog biscuits. Well, they looked like dog biscuits but they were actually graham crackers made to look like Scooby treats. It was the kind of cake you hate to cut into and destroy.
But not everybody has a mother to make them a cake and even if we did, many of us have had to say goodbye to our loving mothers as they moved on to their heavenly reward. So what about birthdays when you don't have anybody to treat you with a cake and presents? What then? Some of you said a birthday was just another day to you.
Sometimes I'm sort of there with you, but at the same time, I think it's a great day to celebrate life by doing something you really enjoy. But I was blown away by Brenda's message about how she celebrates her birthday. Without a doubt, she has the right birthday attitude. I know you'll love reading how Brenda makes her day special. Here's what she says:
I love birthdays! It has nothing to do with getting older, it's just a day that belongs to me, that says how special I am. In fact, there have been birthdays where I forgot that I was older until later in the day. My perfect birthday is celebrated alone (I'm an introvert) and I find all sorts of fun ways to celebrate it with Jesus. I sing "Happy Birthday" to myself all day.
When it's a "big" one (like this year when I t turned 60) I prepare a few months ahead by asking myself, "If my birthday were today, what would be depressing about it? What would I have wanted to do with my life by today?" Then I start doing those things, so that on my birthday I'm already in the middle of life, enjoying and accomplishing what I want my life to look like.
Years ago I found verses in the Bible about my birth from God's viewpoint and printed them, cut them apart, and then throughout my day I slip away and draw one to be reminded of how God loves me.
I buy myself gifts and wrap them, then sit with Jesus and open them and savor things my heart delights in. I do that for Christmas too, lol.
Thank you, Brenda, for sharing a beautiful way to make a birthday and/or Christmas special even when you're alone except for the Lord who is always with us. Brenda picked verses that mentioned how we are marvelously made, like Psalm 71:6-7 "By You I have been upheld from birth; You are He who took me out of my mother's womb. My praise shall be continually of You." (NKJ) But you could also pick favorite verses or ones that make you feel especially loved by the Lord too such as Psalm 68:10 [NKJ] "Blessed be the Lord, who daily loads us with benefits. The God of our salvation!"
We may not be able to change many things about our lives, but we can change our attitudes and do our best to see the good in each day.
Thank you for reading. And remember you still have time to throw your name in my drawing hat for the prizes. 1st prize – wind chimes and winner's choice of one of my books. 2nd prize – a Willow Tree cat and woman figurine and the choice of one of my books. 3rd prize – one of my books and a grab bag book by another author.  You must be 18 or older to enter the drawing and have a USA or Canadian address. Entries must be received by midnight EST on September 17, 2016. You can enter by leaving a comment on one of my blog posts in September or by sending me an e-mail. For fun, you can tell me how you celebrate your birthday. Love your stories.
I'll end with this poem from John whose birthday is 2 days before mine.
I know I'll have fun
Spending time with family
Who always bring the sun,
Wishing me all the best
Along with gifts, and cheer,
As I thank God again
For those that I hold dear!
Save