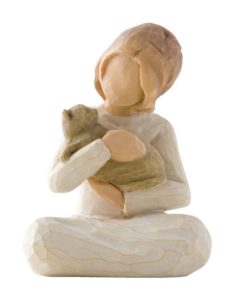 Birthday. If you were to let your mind run free what is the first thing you think about when you say birthday? Cake? Candles? Getting older? Parties? Family time?
When I was a kid, I'm sure it was cake and the hope for presents. I had a wonderful aunt who made us cakes and brought us gifts. I don't remember too many toys. Maybe a puzzle or books. But there was always a new dress she'd made for us. And always, a cake all decorated with candles. I can still remember running down our long lane to meet her car and how excited I was.
I don't get that excited about my birthday these days. I've had a bunch. But I still get excited about getting to share my grandkids' birthdays. One of them, my oldest grandson, is having a birthday today. He's seventeen and has gone two hours from home to a magnet type high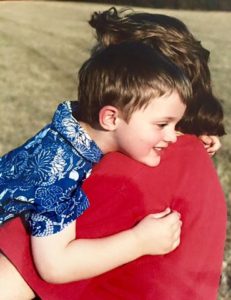 school that specializes in math and science for his junior year. We're proud of him, but we miss him back here at home. He was and is the sweetest kid. He was my second grandchild and the one who proved that a grandmother's love can keep expanding to cover more and more grandchildren.
I love this picture I found today. I did carry that kid around a lot when he was a toddler, but my first grandchild was the reason I set the rule that I wouldn't pick her up anymore after she turned seven. She did like me to pack her home when she'd get tired taking a walk with me. Be careful about making those kind of rules. That one had to last through nine grandkids. Well, seven of them. The twin boys never really wanted me to carry them after they were two. They were too busy keeping me chasing after them. LOL. My youngest grandchild turned seven in the spring and I managed to stay strong enough to keep picking her up until then. Barely. By the time she turned seven, I was way older than when I made that original seven-years-old rule.
Birthdays Mean Gifts
But in my annual birthday giveaway, I reverse things a bit and give the gifts to you. Or at least let you have a chance to win a gift or two. It took me a while to decide what to give as prizes this year, but I settled on a 1st prize of the wind chimes since I love wind chimes myself. And the winner also gets his or her choice of one of my books. Second prize is the Willow Tree figurine with a cat. That's to keep celebrating my cozy mysteries with those cats on the covers. That winner will also get a choice of one of my books. Third place gets the choice of one of my books and a grab bag book to sweeten the prize. To enter, all you have to do is leave a comment on one of my blog posts before the deadline of midnight EST on September 17, 2016 or send me a message from my contact page. You must be eighteen or over to enter and have a USA or Canadian mailing address. For fun, you can tell me something neat you've done on your birthday, but any comment will do.
A Few Fun Birthday Comments
Jennifer H made me smile when she wrote, "On my last birthday the funnest thing I did was absolutely nothing! As a stay at home mom of 3, nothing is awesome!"
Linda L had a great way of celebrating. She says, "I always called my mother on my birthday and thanked her for giving me a birthday."
Ashley A knows how to have fun. She says, "I bought a really cool tiara that lights up in all kinds of cool colors and wore it everywhere just because it was my birthday."
So what do you say? How have you had fun on a birthday?
I'll have more stories on Sunday. Thanks for reading.
Save
Save
Save
Save