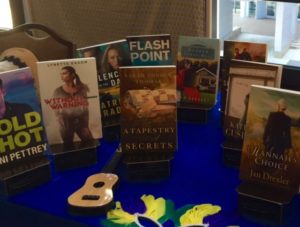 And so my August Sunday giveaways come to an end. Can you believe that next Sunday is September? Time is speeding by, at least for me, as another birthday is coming my way in September. But I'm blessed to be looking forward to that day. That doesn't mean I have to start counting up the years! Some math is just too hard to do.
I sent out a newsletter on Thursday morning before I took off for the ACFW (American Christian Fiction Writers) Conference. If you didn't get a copy, let me know and I'll see that you do. You can also sign up to receive any upcoming newsletters here on my website.
Last week's newsletter has details about my annual Birthday Giveaway. I tried to come up with some fun prizes and of course, the winners always get their choice of one of my books. I'll tell you more about it on Wednesday. Also, I'll be checking out all your messages and responding to them next week.
Tonight I'm still chipping away at my work in progress and trying to find a few thousand more words that are extra and won't be missed if I hit the delete key. I've already trimmed five thousand, but trimming generally makes a story better. When I'm writing the first draft, I can't worry as much about a few extra words in this or that scene. But then this or that scene reads better without those extra words.
That's the kind of thing writers learn at conferences. But the best part of the conference for me was meeting friends and making new friends. Ted Dekker was the keynote speaker and he did a great job of helping us focus on being the writers the Lord would have us be. Then I attended a couple of other workshops where the spiritual side of writing Christian fiction was the highlight.
Of course I liked seeing my book in the Baker Publishing Group's display of books at the conference. Then it was fun dressing up for the Gala Dinner where they handed out awards. You should have seen all the beautiful dresses. Most of us ladies never outgrow that desire to dress up every once in a while. This is Virginia Smith and me. Ginny was a finalist for the Mentor of the Year, but none of my books made the finalist list. So no awards for me, but the authors who won had some great books. The conference gives out Genesis awards to unpublished writers and the writers who win those are so encouraged to continue writing. But I was encouraged a few times too when someone would tell me they'd read some of my stories. I'm always encouraged when I hear the same thing from you readers here. That's the best award of all.
Oh, and guess what? My cover was the only one with a cat on it. 🙂
Sunday's Winners
As promised, I picked two winners this week. One from those who left comments on last week's blog posts and one picked from all those who left comments throughout my August giveaway here on my blog. I do appreciate every comment. It's just more fun when you're talking to me.
Pat H and Brenda were my winners. I sent the winners e-mails and Pat, who is from Kentucky, has already responded with her book pick. She wants Words Spoken True. I haven't heard from Brenda and I still haven't heard from Donna H., last Sunday's winner. May have to draw a different winner if I don't hear from her soon. (I've sent several messages, Donna, so if you're reading this, check your e-mail. Could be my messages landed in your spam folder.)
Thanks for reading and now back to my word trimming!
Save
Save