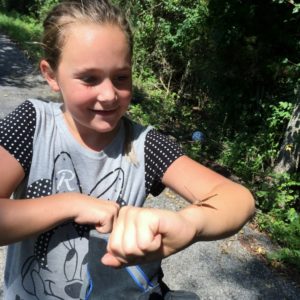 Happiness is a butterfly which, when pursued, is always beyond our grasp, but which if you will sit down quietly, may alight upon you. (Nathaniel Hawthorne)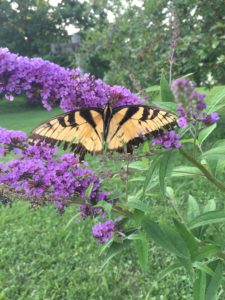 August is a great time for butterflies. I chased one all around the hayfield the other day when I was walking to try to get a picture. I think butterflies are born teasers when they see somebody with a camera in her hand. This one would sit still as can be until I pulled my phone out and turned it on. But once I had it pointed at the butterfly, he was off to the butterfly races. Finally I gave up and simply enjoyed the butterfly floating along with me for half of my walk. That was a day I didn't let Oscar go since it was ninety degrees and his black coat is hot. I promise you, he wasn't upset. He has gotten spoiled to the air conditioning.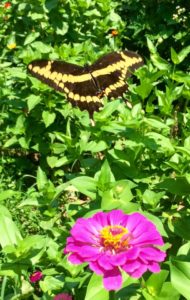 Here are three that I did manage to catch up with. And one that landed on my granddaughter's arm and stayed there for a while one day last summer when we were walking. It made her happy. Somehow a butterfly lighting on you sort of feels like a blessing. The butterfly might be attracted to your sweat, but it's more fun to think they are attracted to your sweetness. And that could certainly be true with this girl. She's a very sweet natured and loving child.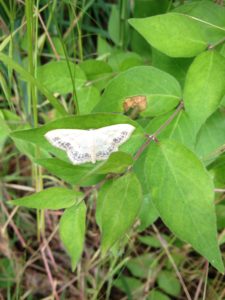 Finding "The End"
In case any of you were wondering, I did find "the end" last night. Well, actually in the wee hours of this morning. Not sure it's the right end. I could have been half asleep, but now I can go back and start those all important edits. That will help me know if the end I found is right or something that needs a major overhaul. I'm way over my contracted word count. As usual, I'm going to have find thousands of words to cut, but that's usually not as difficult as it sounds. Thank all of you for your encouragement and for reading.
This Week's Winner
Thanks also to those of you who have been commenting each post and joining in my August giveaway fun. A couple more weeks to go and so two more winners to come. This week my winner is Emily. In June, Emily shared her amazing Dream Team story here on my blog. It's an inspiring read if you missed it back in June. So now, Emily still comes back to join in the conversation here from time to time. This time her comment got her name in my drawing hat and her number came up. Actually, I give each comment a number and then use Random.org to randomly select a number, but a drawing hat sounds more fun.
You  might be next Sunday's winner. Just leave a comment on this blog post or on Wednesday's, assuming I get a post done on Wednesday. Any comment will do, but I'd love it if you would tell me something about butterflies.
Do you love watching butterflies? Have you ever taken a picture of one? Read a story about butterflies?
Save
Save