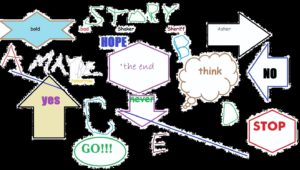 One must be drenched in words, literally soaked in them, to have the right ones form themselves into the proper pattern at the right moment. ~Hart Crane
Sometimes I feel as though I'm soaked in those words as the writer above says I must be, but then other times the words seem to be hiding from me. Especially those two words – THE END. Those are the words I've been desperately searching for the last couple of weeks. I know they are out there. I know they are, but other words keep getting in the way.
I need my people to ride off into the sunset, but they stubbornly refuse to mount up. And there are horses in this story too. The really bad part of not finding "the end" yet is that I am already over my contracted word length of 100,000 words. That means for every word I'm writing now, I'll have to find a word to cut out when I'm editing. Of course I know there will be plenty of unnecessary words when I do get going on those edits. There always are. I have a tendency to be wordy. All right now, stop laughing out there. I can see you thinking, well, she didn't have to tell me that!!
It's not the first time I've struggled to find the end. In fact, I posted this same picture and the quote with the same lament of having difficulty finding the end in 2014. And probably in 2013, 2012, 2011. Well, you get the idea. In fact here's an excerpt of similar laments from a post Making the Words Disappear from 2009.
It's been a hard work week so far with too many other things I have to do getting in the way of my five pages a day quota to make sure I meet my summer deadline. I've been writing and maybe almost getting my pages, but at the end of the day I sometimes end up thinking that I'm going to have to cut most of those words in the final draft. But I tell myself to just get the words out there where I can cut them or improve them, where I can tell the story I'm trying to tell in the best way I can. That's one of the good things about keeping a writing journal. You can see you've been in the same place before. You can see that it wasn't fatal. The story did get written. You can see that it even got published and people read it.

And then in 2014 when I was working toward the end of my Shaker book The Innocent, I said, I'm searching for the end once again. A Shaker book. I'm anxious to be at the end. I tremble a bit thinking about reading it over once I find those elusive words for fear I have not written the story I hoped to write when I first typed in the words "Chapter 1" and began.
With this book I feel that same tremble of worry. Will the story be there? Or will it just be a sorry jumble of words instead of the kind of words that will disappear into a story? Making the words disappear means the writer is successful in writing a story that jumps off the page and becomes a movie in the reader's imagination. The reader isn't conscious of reading words, but instead is living the story with the characters. Characters we care about while we're reading can make that happen.
Some years ago I was teaching a community ed class on writing and one of the sessions was about making characters come to life. In the process of searching for something that might keep my wannabe writers interested in this very uneducated in writing processes teacher I searched for inspiring advice from other wiser writers. One of those writers—and I apologize that I don't remember the writer's name only her advice—said she wanted to create characters who would crawl up into a reader's heart and find a home there. When I read that, I was saying, "Me too. Me too!" That is what I want to do. That is what I try to do with every book I write as I chase after those characters down my story paths to an ending that will be right for them and will  satisfy not only you, the reader but also me, the writer.
Do the words disappear for you when you're reading?
What characters have you met in stories that you invited into your heart and remembered long after you came to the end of their story?
Remember, I'm going to pick another winner on Sunday to get his or her choice of one of my books. Mary H. picked my new mystery, Murder Comes by Mail. I sent it off to her yesterday. Yours might be the next address on one of my giveaway envelopes. Just leave a comment. Any will do, but I would like to hear your answers to the two questions above. I always enjoy hearing from you.
Save