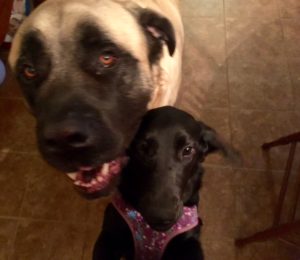 "We can learn so much by observing the way our pets rejoice in life's simplest moments. For a dog, every morning is Christmas morning. Every walk is the best walk; every meal is the best meal. Take time every day to celebrate the many gifts that are hidden in the ordinary events of your life." – Cesar Millan, The Dog Whisperer
I told you last Sunday the place had gone to the dogs. Well, a couple of those guys spent the whole week. Waylon, the mastiff, and Reba, the lab/basset hound mix. That is an amusing mix. She has the hound hunting nose. The lab chewing up shoes desire. Strong I can jump on anything muscles and the very sweet combined nature of the basset hound and the lab. She begs to go outside to hunt chipmunks and to chase birds. Problem is I don't think she knows about cars so I'm afraid to leave her out there alone. And who knows where she'd end up if she did see a rabbit to chase. I wouldn't want her bumping into a coyote.
The mastiff is a sweet-natured dog too if a little hard-headed at times. He comes most of the time when you call him because most of the time he wants to come. If he doesn't want to, he lumbers off in the direction that he does want to go as if to say who's goi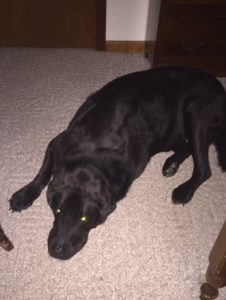 ng to stop him. Actually, once you have his collar, he cooperates, and he does rarely run. So you can catch him pretty easily. Also, his very big mouth collects slobber that at times becomes what one Saint Bernard owner accurately called "slingers."
For some odd reason, my husband has a problem with slingers. LOL. You know, I think my dog, Oscar, does too. Poor Oscar is putting up with the visitors, but he will be happy when they head home tomorrow. Normally, he rarely goes into our bedroom unless it's thundering. Poor dog thinks it's been thundering all week. Of course, it was July 4th week which means there were a lot of booms. But booms or no, Oscar is hiding out in the bedroom and counting the minutes till he has his house and his doggie beds to himself again.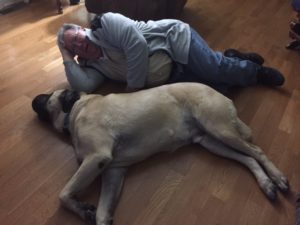 But I can thank both Reba and Waylon for greatly upping my opportunities for exercise. I can thank Reba for making an alarm clock completely unnecessary and for cleaning any spill on the kitchen floor pronto. I can thank Waylon for supplying an excess of shed hair to scatter around the garden to keep the rabbits out. Plus, he not only made me feel small but also my husband, who actually asked me to take this picture. And my husband is ready to show this comparison shot to all his friends. But most of all the pleasure was in all that doggie affection in abundant supply all week long.
"Humankind is drawn to dogs because they are so like ourselves — bumbling, affectionate, confused, easily disappointed, eager to be amused, grateful for kindness and the least attention." Pam Brown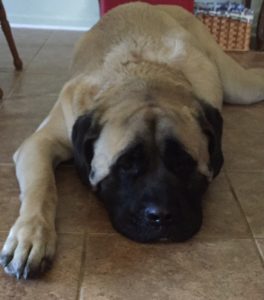 INNER STRENGTH
If you can start the day without caffeine,
If you can get going without pep pills,
If you can always be cheerful, ignoring aches and pains,
If you can resist complaining and boring people with your troubles,
If you can eat the same food every day and be grateful for it,
If you can understand when your loved ones are too busy to give you any time,
If you can take criticism and blame without resentment,
If you can ignore a friend's limited education and never correct him,
If you can resist treating a rich friend better than a poor friend,
If you can conquer tension without medical help….
Then you are probably the family dog!!!
Some lessons for life we can learn from dogs:
~When a loved one comes home, always run to greet them.
~Allow the experience of fresh air and the wind in your face to be pure ecstasy.
~Take naps and stretch before rising.
~Avoid biting when a simple growl will do.
~No matter how often you're scolded, don't buy into the guilt thing and pout. Run right back and make friends.
~Be loyal.
~If what you want lies buried, dig until you find it.
~When someone is having a bad day, be silent, sit close by and nuzzle them gently.
As always, thanks for reading. I'll try to write about something other than dogs next week. Cats maybe. 🙂
Save
Save