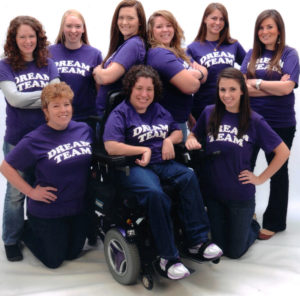 Today I have a special guest on One Writer's Journal. Emily Shanahan. Feel free to check out Emily's website to read more of her amazing story. I met Emily via the internet after she had read some of my books. She wanted to give her Dream Team a copy of my book, Angel Sister, in their Christmas packages last year. With the help of Revell Books, we were able to make that happen and in the process I gained a great internet friend.
As you may be able to tell from the picture, Emily (in the wheelchair) in the middle of those great friends and team members has cerebral palsy. But look at that million dollar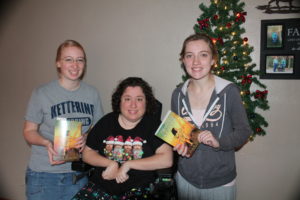 smile. She doesn't let anything slow her down as you will discover when you read her story below. Let Emily know you enjoyed reading about her and since Angel Sister started Emily's and my online friendship, I'll give a copy of Angel Sister to one of you who leaves a comment. If you already have the book or have read it, keep in mind, the way Emily did, that books make a wonderful gift for a friend. So if you win the book, you can pass it along. Now to Emily's story about her amazing dream team.
EMILY SHANAHAN'S AMAZING DREAM TEAM by Emily Shanahan
"TEAM WORK MAKES A DREAM WORK"

What is the Dream Team?
The Dream Team is comprised of a group of servant heart leaders who have big dreams, goals and aspirations to change the world around them.  Many of the members on the Dream Team are students themselves studying to be nurses, physical therapists, physician assistants, teachers and doctors. The Dream Team helps me with my daily personal care needs (helping me with meals, bathing, restroom trips), academic work, driving the VAN4EM and office administration.
When did the Dream Team start and why?
At the age of 9, God gave me the vision to attend Cedarville University as residential student.  At the age of 11, only a few weeks into my sixth grade year, I asked my parents to join me in the living room for a family talk.  It was during this talk, that I informed my parents that I was going to attend Cedarville University and live on campus independently.  I asked to have people start coming in to care for my daily needs so that by the time I turned 18 and moved on to Cedarville's campus, I would know how to manage my care in love and grace.
What is the history of the Dream Team?
It has been a learning adventure.  Life is relationships so through the formation of the Dream Team under God's leadership and direction.  I have learned a lot about people management, healthy boundaries and having expectations of God alone.   It really leads to freedom and pure JOY.   At the beginning of the personal care journey, I started out with "Fried Francis." Francis would arrive at 6am – seven days a week.  I fried her in the process 😉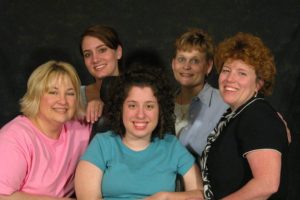 By my junior year in high school, I had the "Fabulous Four." During the Fabulous Four season, my Mom was driving down the interstate one day and God very keenly laid on her heart to name the group of women caring for me the "Dream Team." Mom actually had to pull over to write the name down as it was a very powerful encounter with God.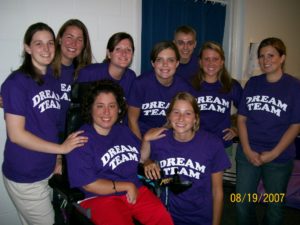 So, when I thought of how many Dream Team members I would need for life on campus at Cedarville University, I thought "Eight Would Be Enough." I quickly found out within a week of life on campus that "Eight Was Not Enough." One evening when I was wondering how in the world I was going navigate campus life, independently two upper classmen knocked on my dorm door. Amy and Lauren. These two had talked and prayed and came up with a plan that was simply amazing! The Dream Team bench was about to go deep and beautiful.
Amy and Lauren, tasked my Mom to follow me around on campus on a daily basis for a week. At the end of each day, Mom was to document when I would need assistance. My Dad then took that information and created a spreadsheet schedule with time slots for students to sign up and help.  The following week, we plugged in volunteers and began training so that my Mom could move back home. J Amy and Lauren spread the word with their friends and soon the Dream Team grew from 8 to 36 within 10 days.  Most of these individuals gave of their time on a volunteer basis. During my freshman year, my Mom applied for a new Personal Care Assistance program so that the volunteers could receive payment.  The amazing thing is that most of the students were not interested in the pay and most checks were saved to go on Missions Trips.  By the time I graduated from Cedarville University, on May 7, 2011, 145 students had served on the Dream Team. Presently, I am finishing my master's degree on line through Anderson University of Anderson, Indiana.  The Dream Team is a mix of students from Kettering College, Cedarville University and Miami University, most of whom are majoring in people helping professions.
What is the Dream Team's Motto?
"Team Works Makes A Dream Work." There is strength in numbers and flexibility, which fosters an environment of team work and trust. This way of doing life together allows for new ideas to flourish and stream line routines.
What is the Dream Team's governing verse?
"Work with enthusiasm, as though you were working for the Lord rather than for people." (Ephesians 6:7, NLT)
What is the Dream Team's Core Values?
Honor God in everything we do.
Build relationships based on trust and respect.
Maintain integrity and excellence in everyday living.
Practice responsible stewardship both relationally and financially.
 What is inspiring about the Dream Team?
The Dream Team are students themselves yet they step outside of themselves to help me complete my master's degree course work, keeping my day rolling forward in God's grace and excellence.  One Dream Team member arrives at 7am to start my day and another leaves at 10pm closing my day out.  They bring their faithful feet and laughter in the rafters into my home; faithfully choosing to serve with joy in the face daily unrelenting needs. These women are truly passionate, servant-hearted leaders who teach me about what it means to be others focused and live life to the fullest for God's Glory.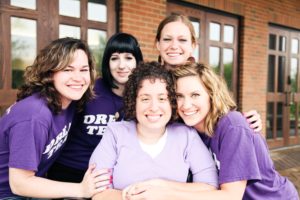 Closing Thoughts:
My family has raised me in a Christ centered home and Jesus Christ is my personal Lord and savior, God is the one who provides for my needs which, in turn, releases individual Dream Team members from carrying the responsibility of meeting my needs.  This perspective has created a foundation and spring board to a whole new community for the Dream Team alumni.  Thanks to social media, I can stay in touch with Dream Team alumni, attend their weddings, celebrate pregnancies, meet their children who call me, "Aunt EmShan" and continue to watch our friendships grow.
Thanks, Emily
Thanks, Emily, for sharing the story of your Dream Team. And remember, everybody, if you leave a comment for Emily, that will get you in a drawing for a copy of my book, Angel Sister. Emily enjoyed "visiting" Rosey Corner and some of her Dream Team did too. (And happy birthday, Aunt Patty!)
Thanks for reading!
Save
Save
Save
Save