It's not every day that you chance upon a man who can sing an Elvis song in German. But sometimes you do chance upon the most interesting people when you travel.
We just got back from the Memphis Quartet Show. Some of you know that my husband, Darrell, has been singing Southern Gospel music for many years. (By the way, this isn't Darrell. You have to keep reading to find out who is singing in the video.) Darrell first started singing bass with a quartet called the Melotones over forty years ago and has been singing with various groups ever since.  Currently, he is back singing with the Patriots. If any of you are interested in hearing how he sounds with the group you can check out some of the songs on the Patriot Quartet website.
Darrell loves that all male quartet sound with the four-part harmony. I'm more into words than music, but a good tune to some great words can get my toe tapping. Many of the groups wisely add some fun to their concerts with a little comedy mixed in with the songs. The Booth Brothers are great at that. They are a trio, not a quartet, but they have so many fans that those in charge of Memphis Qt Show invited them to grab a bass singer from another singing group got an afternoon show. Their show was great with the perfect mix of laughs and spirit moving songs.
So, we had four days of uplifting and encouraging music. The Southern Gospel sound varies from upbeat like "Looking for a City" to spirit driven songs like "Beulah Land." Memphis was full of gospel music fans and it was easy to strike up a conversation with whomever you might end up sitting beside at the concerts or standing beside as you waited for the elevator in the hotel or on the trolley running around town.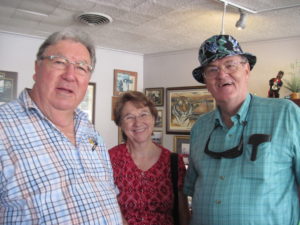 One day, as Darrell and I were waiting for a van to pick us up for a sight-seeing tour of Memphis, a couple came out of the hotel to wait for the same van. And isn't it a small world? We had met them before when they heard the Patriots sing at Renfro Valley. We didn't recognize them and they didn't recognize us, but when I mentioned the Patriots, Sharon remembered hearing the quartet sing and about "that woman who writes books." Well, that was me. So, while Darrell retreated to the air-conditioning inside, Fred, Sharon and I stayed outside waiting for the van and talking about this and that. They said they were gong to visit Graceland because they were Elvis fans. Then Fred, who taught high school German, told me he could sing Elvis songs in German and proceeded to demonstrate that. So I asked if I could video him. The video is a few lines of "You Ain't Nothing but Hound Dog." I think. I obviously don't know German, but it's one of those Hound Dog songs. LOL. The last line he says, "Thank you very much" the way Elvis sometimes did. Fred, who is retired now, said he used to substitute teaching German and he'd keep the kids interested by singing Elvis in German. He kept me interested for sure. Thanks, Fred. For more information about Fred and Sharon and their ministry and performing check out their website.
So, don't you love chance meetings? So glad I struck up a conversation with them. Else I would have never heard a German Elvis impersonation.
Oh, and thank you very much for reading.
P.S. Murder at the Courthouse is $1.99 Amazon Kindle for a limited time. Always double check the price if you want to be sure of getting the sale price.
Save
Save