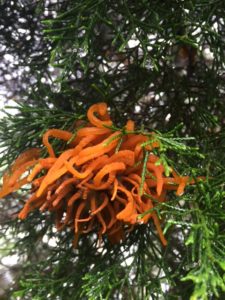 Here's the rest of my just for fun mystery photo. Thanks so much to those of you who took time to look at it and make some sort of imaginative guess. I thought more of you might say gummy worms like Mary did. She also suggested cheetos. I like the carrot peeling guesses. A couple of you came up with what it is, more or less. Way to go, Marji who guessed some sort of fungus and added an orange worms guess. Then Peggy just hit it on the nose with her fungus on a tree.
On a walk earlier in the spring after several rainy days, I spotted several of these weird looking orange growths in cedar trees. I thought they looked sort of scary like something out of a alien movie. They certainly didn't look like they belonged in the cedar trees!
After I saw it, I came straight to the house and googled orange gook on trees. Isn't the internet amazing? That's all it took and pictures that looked almost identical to my picture of the orange wormy looking mess popped right up. It's Cedar Apple Rust. The internet assured me I won't be attacked by these orange fingers. However, it did let me know why my apple trees died. This very fungal stuff on the cedar trees started out as a kind of rust blight on my apple trees. The weird stuff takes both apple trees and evergreens to mess things up. The two types of trees have to be within four miles of each other. The tree with the orange fungal fingers and my apple trees are probably about a mile apart. Here's more info if you're interested. Cedar Apple Rust. Or you can do like I did and Google it. Lots of info out there about the disease.
Unfortunately, I didn't recognize it and spray against it soon enough to save my apple trees, but the last year the trees had apples, the squirrels ate them all before they were big as walnuts anyway. Every time we went out the front door, two or three squirrels would run down out of the tree and over to their home maple tree. We seem to do a good job feeding critters around here. The rabbits are now eating our bean sprouts. We tried the rabbit deterrent stuff you buy. At least one rabbit is not bothered and hops right over it into the garden for her morning snack. My husband is threatening a permanent solution, but so far the rabbit hasn't been in sight at opportune times for my husband and inopportune times for the rabbit. I think we're going to have to try some kind of pepper spray. Any suggestions?
As always, thanks for reading. Come back Sunday for a special post from a reading friend who assembled a dream team to help her with some of the difficulties she has had to overcome in her life. I think you will be inspired by Emily Shanahan's post. She gave all her team a copy of my book Angel Sister for Christmas last year with the help of my publisher. So to celebrate her visit, I'll give away a copy of Angel Sister to one of you who comments on her post.
I've heard from the winners of the mystery photo giveaway fun and sent out their books. Peggy from Iowa and Doris from Washington picked Murder at the Courthouse. Lois from Wisconsin picked Murder Comes by Mail. And the new winner of a book for making one more guess on my just for fun mystery photo is Betty W. I'll be in touch, Betty.
Save