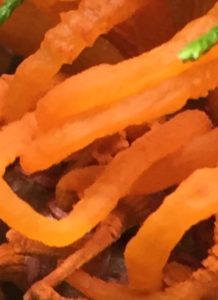 All good games must come to an end, but we have a few winners of this mystery photo game. Right answers weren't necessary to be in the drawing. If that had been true then the odds would have been a lot better for a few of you since I did great in being mysterious with this round of mystery photos. Maybe sneaky is a better word.
And I didn't even use the one I kept threatening to use that I thought none of you would be able to guess. So I'm showing you that funky picture tonight. No more prizes but a just for fun picture. So what is this? When I first spotted it, I thought it might be something from outer space. I had never seen anything like it before. The wet spring played a big part in it being where I saw it. Just for fun, use your imagination to come up with what this looks like to you.
The last photo was a tricky one too. It does indeed look like potato sticks or french fries as many of you suggested and then went on to say that I wouldn't post a picture that obvious. I'm thinking next time I might post an obvious picture and none of you will guess it because you'll expect me to come up with something more mysterious. 🙂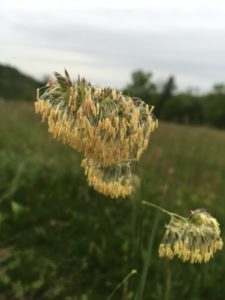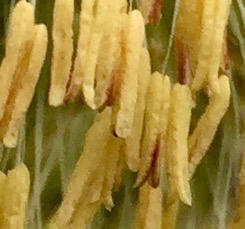 Pat had a really neat guess that it was a close-up of the wheat in the background on my website. Paula went searching online for something that might match and came up with bellwort flowers. They do sort of look like the mystery picture, but no. Betty threw out several fun guesses – wax beans, hand-dipped candles, cheese in cheese cloth and German sausage in kasen. She wasn't limiting her imagination. Betsy also mentioned bean pods. Evelyn and Joyce said those old fashioned clothespins. Nyla had the last say with her guess of touch-me-nots. Those are interesting flowers.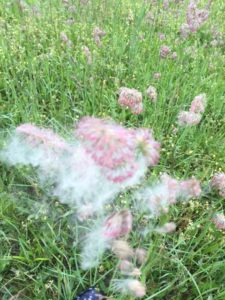 Several of you were almost or mostly right by guessing some part of a bloom. I posted a similar picture on my Facebook author page a week or so ago and thought maybe some of you might guess it because of that. But the one I posted had reddish pollen seed heads. But that's what it is – grass heads swollen with pollen. Again, if I've ever seen this grass do this, I don't remember it. In the second picture here is what happened  when I touched the grass heads that morning. Since then, I've not found any that would "smoke" like that although I have found some similar seed heads.
Oh, you might be ready to hear the winners. Doris L., Lois K. and Peggy C. win their choices of one of my books. I will send you all a private message a little later so check your inboxes. Thank you all for playing my mystery photo game this time. Maybe I'll figure out something else fun to do soon. Meanwhile you can guess on that bonus picture and maybe I'll pick an additional bonus winner for a book on Wednesday's post.
As always thanks for reading and for making my mystery photo game fun for all of us. You all are the best.