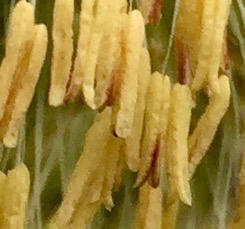 The mystery photo game is drawing to a close this round. Thank you all for playing and for guessing and for making the game so much fun. Oh, and thank some of you for being wrong. That's my competitive spirit coming out. LOL.
I did find some good mysteries this time. Some of you guessed right now and again, but I tricked a lot of you on several of the pictures. The one I thought would be easiest for you turned out to be the one nobody got. The mouse wheel. Some of you said that you missed that one because you never use the mouse anymore but use the mouse pad. I like the mouse in my hand myself. I have a hard enough time making that little arrow behave without wondering which way to swipe my finger on one of those little square gizmos.
I wasn't sure how many people I might be able to trick on Sunday's photo. And I do know that some of you might be like those with the mouse wheel. You may not have much familiarity with the object of the mystery photo. Some of the guesses were glass vases, lead crystal candy dish, brooches, hair clip, Christmas tree decorations, and chandelier. Jennifer guessed a globe for a light thingy. She got the thingy part right, but not the rest of it. Marji guessed an upholstery tack. Sandy came up with a string of guesses – hat, tiara, hair clip or crystal coaster. I liked Sandi's guess of the inside setting of a ring. Angela said a candle holder and Mary Lou sent in a guess of baby blanket piece. Kathleen said thread, lace and fringe. But I think Pat might win the best imagination this time when she said it was an old typewriter key striking the ribbon. You guys come up with the best guesses.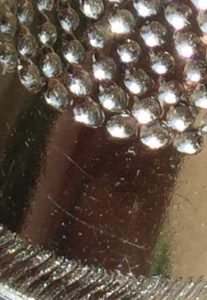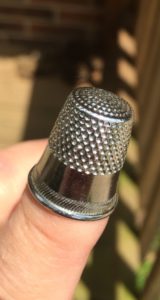 Then six of you guessed thimble. Paula, Carolyn, Brenda, Amy, Nyla and Evelyn. I think we have found the seamstresses in our group because they were right. It is a thimble that I'm modeling in the picture. My aunt was a wonderful seamstress. She made her first dress when she was nine. And she always used a thimble.
We found this antique child's thimble when we went through Mom's things after she died. The little thimble has been well used. It's bent and no longer perfectly round.
I wonder if it was my aunt's. She helped us learn to sew and when the kids were little, I made clothes for myself and for them. But I never learned to wear a thimble. Perhaps if I'd done quilting like my aunt, I would have figured out the advantages of a thimble to push the needle through the fabric without poking your finger. I did use a thimble back when I used to patch blue jeans, but I rarely left it on my finger. Just grabbed it when I was sewing the thicker spots of denim.
Now I rarely sew anything. How about you? Do you sew and use a thimble? Did you ever see your mother or granny using a thimble? I've heard some say that a well-placed thump on the head with a thimble had a way of making some kids straighten up and act right.
The mystery picture up top is the last mystery photo in this mystery photo game. I'll play the game again in a few months, but Sunday I'll be drawing for the winners. Some of you have guessed on every photo and I so appreciate that. I appreciate all of you who looked at the mystery photos and let those bits of pictures take your imagination into sometimes interesting directions. Remember, you must be eighteen to enter the giveaway, and the deadline for guesses is midnight EST June 11, 2016. A guess, right or wrong, gets your name in my drawing hat, and each guess on a new mystery photo gets you an additional entry. Those "I'm stumped" comments get your name in the drawing too. I'll pick three winners who will get their choices of one of my books.
As always, thanks for reading.