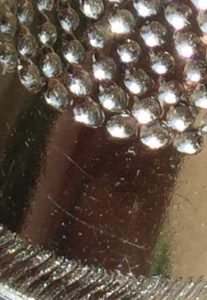 I'm not sure how amazing it is, but I do hope you are having fun playing my mystery photo game. You should see me around here studying everything I see just so maybe, just maybe I can come up with a picture you don't ALL guess. So far this round of mystery photos I'm doing fairly well. Only one person got the first mystery puzzle right and nobody got my mouse wheel. I guess I do have a unique mouse with a treaded wheel. Wouldn't want my finger to slip. LOL.
However, I do admit that many of you were able to "solve" Wednesday's mystery photo. There were two popular guesses. One was some sort of brush with various ideas of the the type of brush. Dishwashing brush was mentioned often. Bottle brush had a few guesses. Scrub brush came in there once. I do have one of them around here somewhere. With plenty of dust on it, I confess. I also have a baby bottle brush. I need it to clean my hummingbird feeder. But brush was not the right answer.
A few of you came up with very imaginative guesses. Lois said a dandelion right before it fuzzes or a caterpillar. Loved that dandelion fuzzy guess, Lois. Vicki guessed a sea cucumber. Sonja and Paula thought about a feather. I've considered trying to do a mystery photo of a feather, but the time I did the rooster, all of you guessed that. Linda said a corn bloom. That was a really good guess, but wrong. And I had to love Pat's guess of a cheese grater with someone grating cheese. I'll have to try that mystery photo some time, Pat.

No, those of you who guessed the center of a flower were mostly right and those of you who said an iris were all the way right. Way to go, Peggy, Kristy, Sandy and Linda. Susan, whose son helped her guess, first said a Koosh ball or puffer caterpillar toy, but thought iris might be the best guess. Fun that she had her son helping her figure out the mystery.
So here's the rest o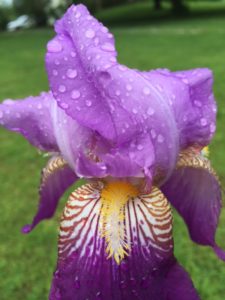 f the picture. A lovely iris after a rain. This is one that used to be out at our little country church. It's the more old-fashioned looking iris without all the frilly edges.  We had to dig them up a few years ago because of water problems where they were planted next to the church building. So I brought some of them home to plant. Others also took home some bulbs. It's neat to think about the women who probably brought starts from their yards to plant them at the church long ago. Our church has been in this building since 1889.
Back when I was a kid, we rarely called these flowers iris. We called them flags and most every yard that had flowers had some flags. We still have some at the church, but now they grow up out in the edges of the yard where some of the bulbs were pitched when they were dug out. It's sort of neat to see them thriving on without any care on our part and blooming anyway. That has always been the beauty of iris. They do thrive on and bloom year after year.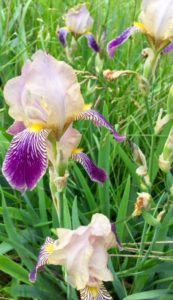 I'm guessing many of you have iris starts from friends and relatives growing in your yard. I even have a start from a patch of iris I found way back in the woods. The blooms aren't particularly pretty, but I don't care. They have spread from one bloom to many here in my yard. I like seeing them and thinking about how somebody planted them so long ago that no sign of any people living anywhere near there remains. Except the iris, and they iris live on to prove that at some time way over a hundred years ago a woman wanted to make her yard prettier.
So, now I have a new mystery photo up top. And I'm ready for any and all attempts to solve this mystery. 🙂 This is the next to last mystery photo this game round. The last mystery photo will be on Wednesday. I've still got that photo I don't think any of you can guess in the mystery photo batting circle. Still not sure I'd be playing fair to post it, but we'll see. If you all guess this one, I may not want to play fair on Wednesday. LOL.
I'll draw for three winners on Sunday and the winners will get their choice of one of my books, including my new mystery, Murder Comes by Mail.  You must be 18 to enter the drawing, but that doesn't mean you can't ask your kids for help figuring out the mystery. Deadline for entries is June 11 at midnight EST. Each time you guess on a new picture you get your name in my drawing hat again. Some of you have guessed on every picture and I appreciate you helping to make my mystery photo game fun.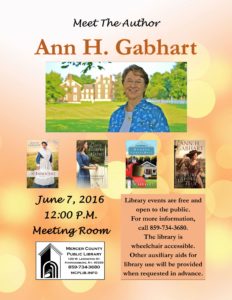 As always, thanks for reading. Oh, and if you e-read, you can grab Murder at the Courthouse for $1.99 to $2.99 according to where you shop for e-books. Plus, if you live in the area and would like to hear me talk about my books, you can come to the Mercer County Public Library at 12 noon on Tuesday, June 7th. Event is free and open to the public. Would love to have you there.