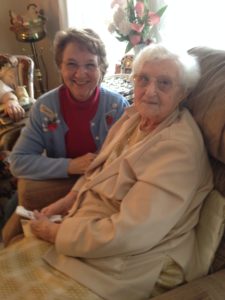 Sometimes you are blessed to get to know a person who is gifted with those fruits of the Spirit named in Galatians 5: 22-23. Love. Joy. Peace. Longsuffering. Kindness. Goodness. Faithfulness. Gentleness. Self-control.  I have been so blessed and our little country church was so blessed to have Loretta Riley as that Christian person. I didn't get to know her until she had already celebrated a number of birthdays. For several years, she was unable to attend church due to caring for her bedridden mother. But eventually she was able to return to our fellowship after her mother passed on to heaven. That's when I got to know her and Earl, her husband. What a beautiful example of faithfulness they both were! They got to celebrate their 75th anniversary with a big party at our church. Then not long after that, at age 96, Earl moved on ahead of Loretta up to heaven. Loretta missed him, but she trusted in the Lord to continue on with her until He was ready to call her home.
She celebrated 99 years of life in May 2015. Each year on her birthday, our church would go to her house since she was no longer able to attend services and help her celebrate a new year. Brenda, our pastor's wife's sister, started making her beautiful birthday cakes that Loretta appreciated so much. Here she is with the one that says 99. One year we put the wro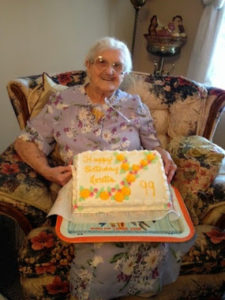 ng age and made her a year younger. Loretta just laughed and set us straight. That was another thing about Loretta. She never had a minute's problem with her memory. You wanted to know about something that had happened or the name of somebody in the neighborhood, all you had to do was ask Loretta.
We went to see Loretta for the last time in early December last year to share the Lord's Supper and a time of fellowship with her. We didn't know it would be the last time. We were already planning the great time we'd have with her celebrating 100 years. But it wasn't meant to be. In January, Loretta went into the hospital with heart problems that caused her to have difficulty breathing. The doctors did their best, but eventually they gave her the news that she had mere days to live. What did Loretta do? She rejoiced. First, she told her children and grandchildren goodbye. She told our preacher goodbye. And then she told them how much she looked forward to being in heaven and seeing her Lord and the angels. No fear. No sorrow in her heart. She was ready to move on into eternity. She said she'd watch for us to join her there.
After she died, I mentioned on Facebook how we were sorry, as her church family, that we wouldn't be able to celebrate that 100th milestone with Loretta. One of my Facebook friends wisely said there was no reason not to celebrate. She suggested we think up something special to do in memory of Loretta on her birthday. Maybe take a cake to a nursing home. Or flowers. Or whatever we could come up with to honor her memory.
So, since we knew how very much Loretta loved her Bible and read it every day, it seemed only right to see if we could raise enough money ($500) to donate 100 Gideon Bibles in her memory. Our church congregation is very small. Sometimes only 20 or 30 people attend on Sunday mornings. So some thought we might not be able to reach our goal. I had no doubt.
Then as things would have it, Loretta's birthdate was actually on Sunday, May 15. So we invited her family and planned the kind of dinner we often took to her house when we visited. Sandwiches. Chips. Cookies. Nothing fancy. It seemed only right to do the same on a day when we were remembering our times with her. Of course, Brenda did make that fancy cake with 100 roses in memory of Loretta. Many of Loretta's family came and filled several of our pews. They, too, wanted to contribute to Loretta's Bibles.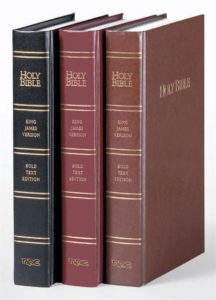 Loretta was our church's prayer warrior. She was always ready to take any shared concerns before the throne. It was such a blessing to have Loretta pray for us. For me.
Prayers were said about Loretta's Bibles too. Prayers that were answered. When we made the final tally of money donated for Bibles in Loretta's memory, enough was given for not 100 Gideon Bibles, but 325 Bibles. Way over our initial goal. And that was only right when we were giving in memory of a Christian woman like Loretta.
Now Loretta's Bibles will go out into the world. We won't be able to follow them to know the stories of the people those Bibles may touch. We put that into the Lord's hands. Isaiah 55:11 says, "So shall My word be that goes forth from My mouth; it shall not return to me void, but it shall accomplish what I please, and it shall prosper in the thing for which I sent it." (NKJ)  I have no doubt that Loretta's Bibles will prosper.
Thanks for reading. Come back Wednesday for a new mystery photo game. Got to give away some more books.