Time is running out to enter my Celebration Giveaway for Murder Comes by Mail. Deadline is noon EST Tuesday, May 17, 2016. I got the nesting cats and they are cute but not as tall as I expected and the journaling Bible is beautiful. So if you want to get your name in the drawing, you have to do it before high noon Tuesday. That's when all the big gunfights happened in the old Westerns, wasn't it? See more details of the giveaway on my News & Events Page.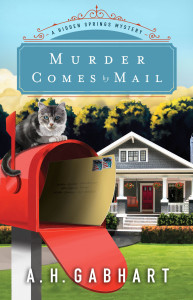 But that's not your only chance to win a copy of my new Hidden Springs mystery. Murder Comes by Mail officially releases tomorrow on May 17th. Probably not at high noon, but perhaps at the stroke of midnight. That sounds like a great time for a mystery book to start flying out to readers. Of course, some readers have already snagged early copies. So far all the comments have been great. I'm always grateful to any reader who takes the time to leave a review of one of my stories on Amazon, Goodreads or other review places. And then there are those who ask me to come visit their blogs. That's where you have more chances to win a copy of my book.
Interview on The Suspense Sisters
The Suspense Sisters asked me all sorts of neat questions. Things like what three things about me might surprise readers. So if you read the interview, you might be surprised, and you might be the lucky winner of a copy of Murder at the Courthouse. Just click on The Suspense Sisters to check it out and enter.
"My Hometown Inspirations for Hidden Springs" – Amish Wisdom
Check out how my hometown has inspired the settings of several of my novels. You can even get a glimpse of the courthouse where I let that first body be found in Murder at the Courthouse. Then you can enter to perhaps win a copy of Murder Comes by Mail. Two winners will be selected and right now the odds are good.
"Running the Race Set before Us" – Friendship, Hope and Fried Fruit Pies
I know many of you are dog lovers like I am. So you might enjoy reading a devotional type article about one of my dogs, a cockerspaniel named Jody. Shelia is giving away a copy of my book, Murder Comes by Mail to one of her subscribers.
More Giveaway Opportunities to Come
Just check out my News & Events Page for more giveaway opportunities in the next couple of weeks as I celebrate the release of Murder Comes by Mail. Plus, I'm going to have a blog giveaway contest soon.
Hometown Book Launch
If you're in the area, hope you'll come to my Hometown Book Launch next Sunday, May 22, 2016 at 2:30 p.m. at the Kentucky Farm Bureau office buildings on 127 ByPass here in Lawrenceburg. Book talk, door prizes, chocolate and fun.
Thanks for reading, as always. Come back Wednesday and I'll tell you who won my celebration contest and all about my crazy weekend. I'm tired just thinking about it!