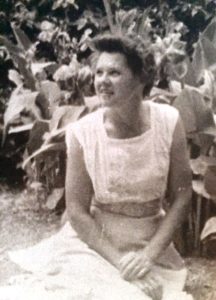 We've been having fun on my Facebook page with Momisms. Those things your mother used to say to you when you were a kid that maybe didn't exactly make you happy at the time. And then you grew up and maybe became a mother and found yourself saying some of the same things or perhaps coming up with new Momisms to drive your kids a little crazy. I'm guessing that some of them have since grown up and had their own kids to perhaps say some Momisms of their own. It's an ongoing circle of Momisms.
This is my second Mom's Day since Mom got her wings and flew on up to heaven. I miss her. She was such a good mother and a great friend. I'm not sure how old she is here in this picture but I think it was around the time she married. She was a beautiful woman inside and out.
But you know what? She had some Momisms too. One that one of my Facebook friends reminded me of was "You're going to trip on that lip." I did a little pouting when I was a kid or so they said! 🙂 She used to tell us our giggle boxes had gotten turned over when we couldn't stop giggling. Sometimes she'd tell us to snap to it and we generally did. Later on, after we got older and had kids of our own, she'd tell us to not fret the small stuff. To enjoy the kids and not worry about the mess or the bare places in the yard. We were raising kids, not grass. I could always depend on Mom having common sense advice. One of her favorites was "It'll all come out in the wash."
I had a few Momisms I pestered my kids with as well. I'm sure they recall me saying "If you don't like it, don't eat it." I didn't have much sympathy for picky eaters, even though I was one when I was a kid, or patience with those who complained about whatever I had cooked for supper. None of my kids ever starved, so I guess they managed to eat what I cooked most of the time.  Then when they reached driving age, I had to always tell them to "be careful" as they were going out the door. Being so young, they had no idea about the worries a mother can have when her child gets behind the wheel of a car. The one I shared on Facebook was "Patience is a great virtue." I'm sure my kids probably hated that one because it generally meant they were going to have to wait for something.
Several Facebook friends added Momisms from their mothers. One I liked was "You can get glad in the same clothes you got mad in." Here are a few others:
"If you don't stop crying, I'll give you something to cry about." (Surely a favorite of many mothers everywhere.)
"Can't never could do anything." (Mom said that and so did I. Maybe all mothers do!)
"Don't worry it'll be better before you get married." (Talking about a minor cut or bruise.)
"Put some elbow grease in it." (A teacher told a funny story about telling one of her students that and then the student searching the cabinets looking for a jar of that elbow grease.)
"Children should be seen, not heard." (Not sure parents these days say that anymore. LOL)
So what do you remember your mom or grandmother saying or that you said to your kids?
Winner of Amanda Cabot's book, Sincerely Yours
The winner is Peggy. Congratulations, Peggy. I'll be in touch and will let Amanda know you're the winner. Thank you all for reading about Amanda's hands-0n research. Enjoyed all your fun comments about riding carousels.
New Giveaway
Remember, I have a new giveaway going now through May 17th. You can read all about it on my News & Events Page. Then the end of the month we'll have some special blog game giveaways. Those mystery photos might make another run here.
As always, thanks for reading and congratulations, Peggy, on winning Amanda's book.
Save