A new book, Murder Comes by Mail, means a new celebration for me and a giveaway chance for you. I sent out a newsletter this week with all the fun details. And you can read them on my News & Events Page. Here's a short version. 1st prize is a Journaling Bible with a set of markets. I've been hearing some people say these Bibles have really added to their devotional times since they can write notes or draw pictures and doodle in the margins. If you're like me, you were raised to think it was wrong to ever make a mark in a book. Maybe that's because many of my books were library books and then we had to buy our schoolbooks and were able to sell them the next year. So you didn't mark up books. But these Bibles are designed for marking up. Sounds fun. 2nd prize is a set of nesting cats since my Hidden Springs mysteries have cats in the stories. 3rd prize is a copy of one of my books. 1st and 2nd prize winners will be able to pick a book as part of their prizes too.
As I usually do when I announce a giveaway in my newsletter (If you didn't get a copy of the newsletter and would like one, just let me know), I asked those entering to tell me if they thought they would enjoy living in a small town like Hidden Springs. Or if they already did, what was good or not so good about that. My computer has not worked right all day, so I haven't had a chance to look at all the great responses. Of course, you can enter without telling me anything about small towns too. That part is just for fun.
Most of the responses that I have read have shown most people are ready for small town life even if they aren't all that sure about everybody knowing everybody else's business there. A couple of the messages I've read made this great comment. "The best thing about small towns is their people, and the worst thing about small towns is their people." You have to know that's true!
But let's listen in on what Gladys says about the small town where she was fortunate enough to attend college after growing up in a large city.
"I was born in a large city, but I attended college in a much-smaller town and I loved it. The people were so friendly and helpful. When you walked down the street and passed someone, they would say, "Hello." Shortly after I got to college, I took a package to the post office to send back home. The clerk in the post office said, "This package isn't wrapped well enough." and she proceeded to unwrap my package and rewrapped it. I will never forget that.
There was a designated corner right across the street from the campus and students wanting to go downtown could simply stand on that corner and locals who had room in their cars would pick up as many students as they could accommodate and take them to town. There was a similar corner downtown where students could go and expect to get a ride back to campus. The practice was well-known and you never had to wait long. My roommate and I were once picked up by two boys who attended another college and we ended up dating them.
Small towns are great!"
That does sound like a great small town, Gladys. Wonder if it's still that way.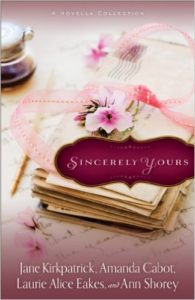 If you want to throw your name in my drawing hat for the prizes, just leave a comment here or send me an e-mail from my contact page. And if you've already entered, I will get around to reading and responding to your message eventually. Deadline for the drawing is May 17, 2016 at noon, EST. As an added extra bonus, that comment here will also get you entered in the giveaway for Amanda Cabot's book Sincerely Yours. Deadline for the entries for Amanda's book is midnight EST May 7, 2016. I'll announce that winner on Sunday. Amanda got a lot of response to her post about Hands On Research. If you haven't read it yet, just click on the title in the side bar and read all about Amanda's great research methods.
After that I'm hoping to have another giveaway just for you all here on my blog. I'm thinking about doing more mystery pictures. I've been searching for some unusual things in hopes of stumping you.
Thanks for reading.